Ezra B Single Barrel Kentucky Straight Bourbon Whiskey Aged 12 Years
Barrel 558
49.5% ABV
$35
Website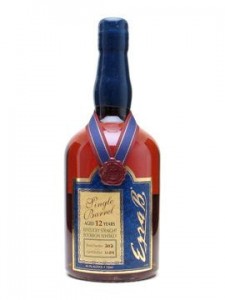 What the Bottler Says:
Carefully stored away and undisturbed for 12 years inside select, heavily charred White Oak Barrels until it reaches its peak of smoothness, Ezra B 99 Proof Single Barrel Bourbon is truly a smooth, mellow bourbon whiskey. Backed behind seven generations of whiskey producing tradition, Ezra B uses only the choicest of grains, perfect limestone water, and special natural aging to acquire its exceptional flavor and character. Each hand-crafted bottle of Ezra B, topped with a wax sealed cork finish, perfectly personifies its character and sophistication, and should be enjoyed extra slowly to appreciate its unique flavor, aroma and full body.
TASTE: A MEDIUM TO FULL BODY WITH A RICH SWEETNESS OF VANILLA, HONEY, AND A HINT OF CHOCOLATE.
FINISH: TOASTY, LONG FINISH
What Gary Says:
Nose: Deep, rich, thick vanilla and brown sugar, sandalwood & toffee (a tad hot).
Palate: Thin mouthfeel, but nice balance of oak and chocolate, with caramel & honey.
Finish: Moderate in length and drying.
Comments: Very nice pour – although as a single barrel, be prepared for some variation. In full disclosure, I had bought a bottle of this years ago that left me less impressed than this sample (although our tastes evolve – so that could be completely on me). The nose had me braced for a thick and viscous pour, and while it felt thin to me – it was not short on flavor. Really nice balance – some 12 yr bourbons are too woody for me, and this wasn't even close (my wheelhouse is typically 8-12 yrs old). It isn't a secret that Luxco sources the whiskey that goes into this label from Heaven Hill, and it absolutely reminds me of their Heritage Center in Bardstown – which isn't a bad thing in the least (heck – one of my favorite places to visit!) If you are a fan of other Heaven Hill bourbons, I would absolutely give this a shot!
Rating: Stands Out/Must Try
What Richard Says:
Nose: Rich and captivating. Burnt sugar, vanilla beans, and soft deep woody notes.
Palate: Caramel, vanilla cream, woody, and peppery spicy.
Finish: It finishes smooth but heavy on the oak.
Comments: This is sourced whiskey but don't let the recent cloud around that term dissuade you. It's the result of a long standing arrangement with Heaven Hill for this Luxco brand. This is a nice, satisfying whiskey that is definitely a bourbon drinker's bourbon. For those lamenting the recent loss of 12 year old Elijah Craig, may I recommend this as a potential replacement.
Rating: Stands Out