Four Roses Limited Edition Small Batch Kentucky Straight Bourbon Whiskey
2014 Release Bottle 4741 or 12516
55.9% ABV
$100
Website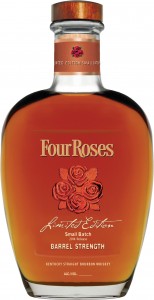 What the Distillery Says:
From time to time, our Master Distiller selects a few exceptional barrels of our 10 Bourbon recipes to become Limited Edition releases. These special releases are barrel strength and non-chill filtered, so you get to savor them exactly as they come out of the barrel. We hope you look for them, find them and enjoy them. Because they're some of the best Bourbons we've put in a bottle. Anytime. Ever.
If any Bourbon could present itself as both robust and refreshing, it would be this year's Barrel Strength Limited Edition Small Batch. Created from 4 of our 10 distinct Bourbons, this bright spirit awakens the senses with light organ zest, glazed maple and fresh spearmint aromas. Delicate flavors of orange citrus and mellow honey share the moment with the uniquely aromatic taste of mild cloves. Light maple and cool mint define a finish perfectly long and smooth enough to make sure your next sip follows just in time to happily mingle with eh one before it.
The recipes: OBSK – 9 years * OBSV – 13 years * OESV – 12 years * OBSF – 11 years
What Gary Says:
Nose: Sweet spice with soft wood, floral, crème brulee with nutmeg, rye spice
Palate: Bright sweetness, caramel, cinnamon (Christmasy), subtle raisins and apples
Finish: Moderate in length; soft/moist landing
Comments: Damn nice bourbon, I've yet to be disappointed by a Small Batch Limited Edition and this is no exception. Each year is slightly different, and each vintage may not be right in everyone's wheelhouse – but if you can find it at retail, this is a label I always feel safe buying without having trying.
Rating: Must Try
What Richard Says:
Nose: A monster this one is! Layers of mint, citrus, and burnt caramel come jumping out at you.
Palate: Glazed apple fritters, monkey bread, and a big walloping peppery minty smack in the mouth.
Finish: It finishes spicy and minty and then as the pepper moves to the edges of the tongue it's all dry oak at the back. A dusting of cocoa powder covers everything.
Comments: Thank you mistress may I have another!?! This is a much more aggressive and less subtle edition for 2014. There is plenty of the Four Roses depth and finesse but it's more a 250 pound quarterback dancing around the offensive line than a ballerina dancing around the stage.
Rating: Must Buy