Russell's Reserve Single Barrel Kentucky Straight Rye Whiskey
52% ABV
$59.99
Website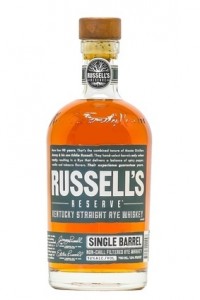 What the Distillery Says:
On a quest to create a versatile and robust Rye that shines as well in cocktails as it does on its own, the Russells carefully selected only the best barrels primarily from the "center cut" locations (levels 3 – 5) of the rick houses for their newest creation. Russell's Reserve Single Barrel Rye is not chilled-filtered to capture all the flavor rye provides. Rich caramel in color, this single barrel release offers a balance of spicy pepper, vanilla and caramel on the nose and palate.
"Jimmy and I have always been passionate about Rye – it's why our Wild Turkey and Russell's Reserve expressions all have that spicy kick – and why we've also had a staple of Rye Whiskey in our portfolio for decades," said Master Distiller Eddie Russell. "We know bartenders love to experiment with Rye, but what's equally exciting is seeing the uptick in consumer interest. I'm having just as many conversations in the global marketplace about our Rye offerings as I am about our Bourbon offerings."
Since the start of his career, Eddie has studied mixology's influence on the rapidly growing Bourbon industry. After seeing a renewed interest in classic cocktails like Boulevardiers, Manhattans, Old Fashioneds, and Sazeracs, all of which call for Rye, Eddie anticipated there would be an increased demand for Bourbon's spicy cousin. Today, the Whiskey industry teeters on the cusp of a full tilt Rye revival and Jimmy and Eddie are leading as they always have, with their new release of Russell's Reserve Single Barrel Rye.
What Gary Says:
Nose: Bright (but rich) wintergreen spice with sweet oak.
Palate: Soft/rich mouthfeel, but rye snap, peppermint spice and cloves.
Finish: Moderately long, and softens near the end.
Comments: I really like Wild Turkey's 101 Proof Rye (I'll politely leave out my thoughts on the 81 proof rye), and this is absolutely a cut above that. I love how rich the mouthfeel on this whiskey is (thank you for not chill-filtering this one!), while still delivering that rye flavor kick. As a single barrel product, there's always some risk of variability. I do really wish they had an age statement. If I had to guess, I'd say it is 5 to 6 yrs old. My knee-jerk reaction was that this seems priced a bit high, but as I scanned the shelves for comparable ryes that are less dough – I didn't see much to be had. The Wild Turkey 101 Proof Rye might be $15 less (and for a 1 liter bottle; so call it $20 less?), but the lack of chill filtering on these along with a couple proof points (and probably a couple of years of age) probably justify the lift. If you like that sorta thing (and if you are generally a fan of rye whiskey, I think you likely will!)
Rating: Must Try
What Richard Says:
Nose: Heavy and dripping with minty and herbal rye goodness layered over a bed of wet pine needles. This is no near bourbon rye nose.
Palate: This one give a quick punch the mouth. It's not as overly mellow as the original Russel's Reserve Rye was when it was release several years ago. Minty, big doses of backing spices, and delicious caramel sweetness.
Finish: There is lingering herbal and oak note that seems to stick around for quite a while.
Comments: I'm torn. I really am. Maybe I'm just a Luddite that just can't move past the pricing and availability of yore. Although, I'm still in my thirties so "yore" is like only 10 to 15 years ago. Still, as good as this is, and it is VERY good, for sixty bucks this may be the last bottle I buy. Solid step up for Turkey rye, no doubt. You will have to decide for yourself on the price proposition.
Rating: Must Try