Parker's Heritage Collection Kentucky Straight Malt Whiskey Aged 8 Years
54% ABV
$99.99
Website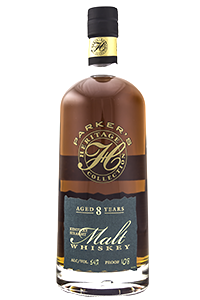 What the Distillery Says:
Not much really. We know that it has a mashbill of 65% malted barley and 35% corn and was distilled at the company's Bernheim Distillery in Louisville. Then it matured for eight years on the 5th and 7th floors of Heaven Hill's Rickhouse Y in Bardstown.
What Gary Says:
Nose: Malty (no surprise), oak, bit of smoke with a subtle cornbread sweetness.
Palate: Starts sweet caramel candies, then starts to dry into a more cereal, crisp light spice.
Finish: Moderate and dry (a bit astringent).
Comments: Quite pleasant, and to me not similar to some other US Single Malts (as this isn't a single malt). The corn in the mashbill comes through, and makes for a unique experience with more sweetness. If you're a whiskey-geek, I'd definitely look to give this a try. If you like bourbon but not scotch, or vice-versa; it might be a bit expensive to find out. While I would not want anyone to think it is "like bourbon", I would consider it "more like bourbon" than I would "more like single malt".
Rating: Must Try
What Richard Says:
Nose: Corn syrup poured over a malted grain covered floor.
Palate: More syrupy sweetness over a bowl of Malt-o-Meal.
Finish: Dry and a little hot more grain forward notes at the end.
Comments: If you are thinking "Parker's Malt" is anything like scotch it would be difficult to be more wrong. This drinks more like a corn whiskey than any "malt" I've ever had. It's incredibly sweet and all the grain, malt, and cereal notes come more toward the back. It's not unpleasant at all. It's just a bit of a one trick pony. There is nowhere near the depth of flavors here as what you would come to expect from the Parker's line. For $100 I would probably pass on the bottle but it's worth a try if you see it at your local watering hole.
Rating: Stands Out