Hibiki Japanese Harmony Suntory Whisky
43% ABV
$65
Website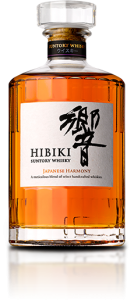 What the Distillery Says:
Hibiki was created to be the paragon of the Suntory blend. The name Hibiki literally means "resonance" in Japaneses, and reflects the Suntory Corporate philosophy to "live in harmony iwht people and nature." Hibiki celebrates Japanese nature and the subtleties found in the 24 seasons of teh traditional calendar, reflected in the 24 facets of its bottle design. Hibiki is a harmonious blend of innumerous malt and grain whiskies from Suntory's distilleries, which are meticulously blended to create a full orchestra of flavors and aromas. The Hibiki Japanese Harmony is the epitome of the Hibiki blend. Subtle, noble and harmonious, Hibiki Japanese harmony is a perfect introduction to Japanese Whisky and the award winning House of Suntory Whisky.
Luminous. Delicate. A transparency that unveils complexity.
Color: amber
Nose: rose, lychee, hint of rosemary, mature woodiness, sandalwood
Palate: honeylike sweetness, candied orange peel, white chocolate
Finish: subtle, tender long finish, with hint of Mizunara (Japanese oak)
What Richard Says:
Nose: This one needs a lot of time for the nose to open up. Initially it smells great from across the table but not much when you nose it directly. Give it time and it shows rose oil and honey while walking in the woods right after it rains. Plum pudding and cloves.
Palate: Delicate, almost effervescent sweetness. Poached pears dusted in cocoa powder.
Finish: Drawn out with a light spiciness playing off the oak.
Comments: This is fine whiskey but it doesn't really stand up to the 12 year old. The pricing on the two is very close and I think you would do yourself a favor to just go ahead and get the aged stated Hibiki.
Rating: Stands Out