Glenfiddich Single Malt Scotch Whiskey Bourbon Barrel Reserve Aged 14 Years
43% ABV
$49.99
Website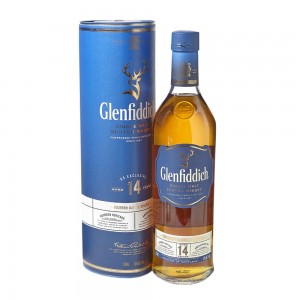 What the Distillery Says:
In a class of its own, the Glenfiddich Bourbon Barrel Reserve 14 Year Old uniquely delivers a bourbon heart with the soul of single malt.
Our Malt Master, Brian Kinsman patiently waits for 14 years as the whisky matures in ex-bourbon American Oak casks, and then finishes the whisky in deep charred new American Oak barrels supplied by The Kelvin Cooperage in Louisville, Kentucky.
The result: a rich, sweet and vibrant single malt. Its a whisky that delivers beautifully complex flavours of woody spices combined with ripe summer fruit, resulting from the spirit's interaction with the casks.
COLOUR: Copper Oak
NOSE: Deep vibrant vanilla notes with hints of citrus, caramalised brown sugar and cinnamon. Baked apple and ripe summer fruits and balanced with the rich oaky aromas.
TASTE: Beautifully rich and sweet with layers of creamy toffee, woody spices, candied orange peel and fresh toasted oak.
FINISH: Long lasting with lingering sweetness.
What Richard Says:
Nose: This explodes on the nose with the smell of fried apple pies. Baked apples seasoned with cinnamon and brown sugar and drizzled with vanilla glaze. The single most "it smells exactly like this…" nose I've come across. No "hints" of this or that. As soon as I stuck my nose in the glass I smell the bakery at Mercier Orchards in north Georgia.
Palate: The mouthfeel benefits from the the six more proof points over their 12 and 15. It gives it a bit more richness and depth. The palate flavors don't jump out as much as the nose. There is a very mellow sweetness playing with the wood. Not the most dynamic palate.
Finish: Dry and chewy. It reminds me of chewing on a toothpick too long.
Comments: This U.S. exclusive release is something rare…a new single malt from an established distiller hitting the market age stated and at or below $50. Well, Glenfiddich has the capacity and stocks to do silly things like give people something they deserve instead of what marketing comes up with as an answer to poor forecasting. Is this some crazy new dynamic from Glenfiddich? No, it's just a solid malt for a decent price. Really, the flavor profile and finish are a tad too bland for me but damn if I couldn't smell this all autumn.
Rating: Stands Out
Our thanks to William Grant & Sons USA for providing us with a sample to review.