Old Fitzgerald 1849 Kentucky Straight Bourbon Whiskey
45% ABV
$17
Website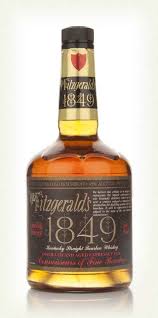 What the Distillery Says:
An historic brand, which dates back over 120 years, Old Fitzgerald Bourbon enjoys a nationally recognized reputation as an award winning whiskey with a tradition of extra-aging.
Made with a "whisper of wheat" instead of the more traditional rye grain, Old Fitzgerald offers a unique and well-loved taste profile. Today, Master Distillers Parker and Craig Beam have preserved the traditional formula and techniques, while adding the benefits of seven generations of Bourbon distilling expertise.
What Gary Says:
Nose: Sweet corn, a bit more wood, some mint, anise is there, but more subdued.
Palate: Bit more bite up front, corn sweetness with a little pepper spice going on.
Finish: Medium in length.
Comments: Compared to Old Fitz Prime, I tend to prefer this as it has a little more spice and edge to it, although it is still a pretty mellow pour. Only a couple of bucks more, and about that much better I'd say.
Rating: Average
What Richard Says:
Nose: Much lighter than the other versions with a nice mellow sweetness.
Palate: Sweet toffee syrup with a nips of black pepper around the edges.
Finish: Heavier on the wood coming through the finish compared to the Prime and BIB.
Comments: Another fine serviceable version of Old Fitz. This one isn't going to knock your socks off but it's not off putting in the least.
Rating: Average