Compass Box Hedonism Maximus Scotch Whisky
46% ABV
$250 – $300
Webiste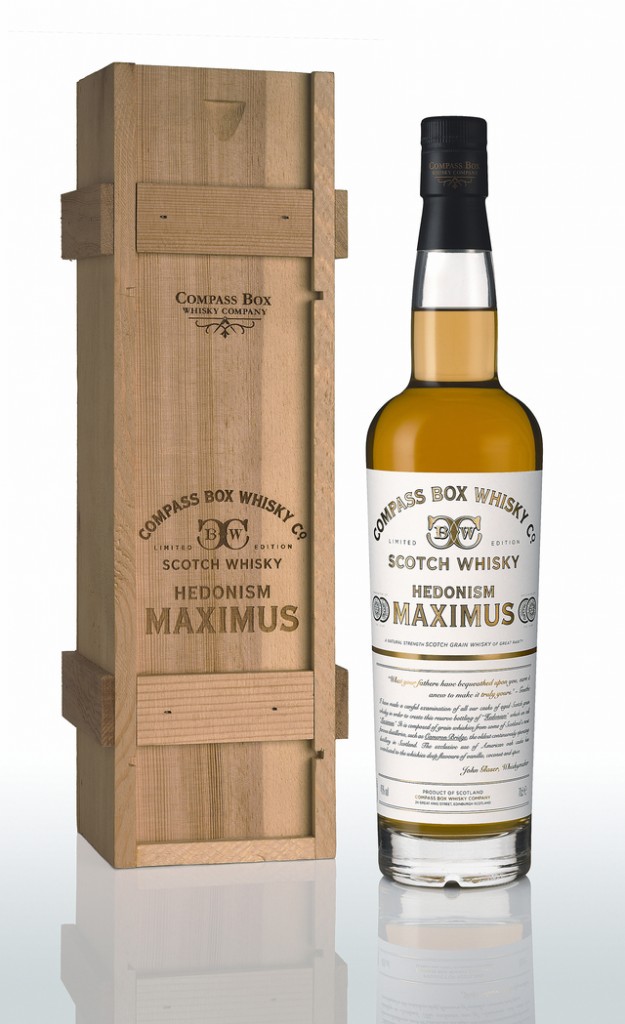 What the Blender Says:
This reserve version of our classic whisky Hedonism, which we call Hedonism Maximus, is packaged with a label that pays homage to one of Scotch whisky's classic labels from the early 20th century.
An Homage
A reserve version of our classic grain whisky Hedonism, you will find that Hedonism Maximus has similar character, but the flavours are much deeper, even sweeter and much more intense given the very old age of the whiskies chosen. For Hedonism Maximus we have used 42 year-old whisky from the Invergordon distillery in the northern Highlands, and complemented it with 29 year-old whisky distilled at Cameron Bridge in Fife, Scotland's oldest continuously operating distillery. The result is a truly rare and truly remarkable whisky for the serious Scotch whisky hedonist.
The label and packaging pay homage to one of Scotland's seminal whisky brands, Andrew Usher & Co.'s "Old Vatted Glenlivet Whisky." In the UK's National Archives we located an advertising poster for this whisky from 1905 and asked our designer, Chris Edmunds, to create a label based on this.
Very Limited Availability
Availability is limited to just 250 cases (of 6 bottles each) worldwide.
Flavour Descriptors
Intense aromas and flavours reminiscent of crème caramel, spice-laden vanilla cream and toffee. Big, fat and sweet on the palate. Tremendously long finish.
Recommendations
Sipped neat.
Distillery Sourcing
The Invergordon distillery (distilled in 1965) and the Cameron Bridge distillery (distilled in 1979).
Wood
First-fill American oak ex-bourbon barrels.
Bottling Details
Bottled at 46%. Not chill filtered. Natural colour.
What Richard Says:
Nose: Pralines, leather, infused tobacco, toffee, and creme brulee.
Palate: Rich and oily with a fruity sweetness. That classic 30+ year old scotch flavor of rich polished leather and aged tobacco is there but in a more subdued and balanced way. It's like a brighter "old scotch". More vanilla and toffee sweetness dance in the background but it is kept a bay by a considerable bitter tannic quality.
Finish: The finish is dry, long, bitter, and tannic.
Comments: The back of the palate and the finish are oddly bitter. It really stands out on counter point to the sweetness. If that bitterness was a little more subdued it would be an absolute must buy. As it is this is still probably the second best grain scotch I've every tried. (The best being an independent bottling of 40+ year old Girvan) It has so much going on you really have to try this if you can.
Rating: Must Try