Rock Hill Farms Single Barrel Bourbon
50% ABV
$45 to $65
Website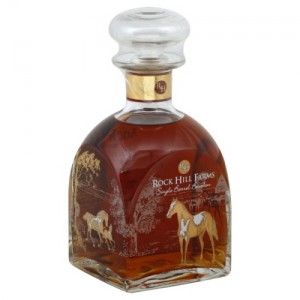 What the Distillery Says:
Named for the rich farmland along the Kentucky River, this 100 proof Single Barrel Bourbon Whiskey honors its Bluegrass roots, defined by rich tradition and smooth bourbon.
Tasting Notes:
Seductive aromatic notes of toasted walnut, dried red fruits, spice, cocoa and marshmallow. Flavors of dark chocolate, chocolate covered almond, coffee, tobacco and dark caramel. The finish is smooth, silky, toffee sweet and honeyed.
What Gary Says:
Nose: Stepping into a rickhouse in the fall, musty oak, bits of corn and cinnamon, with a hint of licorice.
Palate: Wow . . . (my exact thought was Austin Powers "yeah baby yeah!") Silky sweet, caramel corn balanced very nicely with spice.
Finish: Moderately lingering, pleasant.
Comments: I first tried Rock Hill Farms at a restaurant, and was quite underwhelmed – so I was expecting the same. This completely changed my opinion. Very well balanced; the bit of corn on the nose gave me pause that it might be young, but the palate was something else. Being a single barrel, there is always a risk of variability there, but I'm definitely reconsidering picking up a bottle in the future (and not only because the bottle is pretty freaking cool as well).
Rating: Must Try
What Richard Says:
Nose: Cocoa powder, hair spray, cinnamon, dried cherries, raisin's pulled of a box of raisin bran.
Palate: Burnt caramel, more cherries, dark chocolate truffles, toffee crisps covered in white chocolate ganache.
Finish: Dry cocoa powder and bits of honeysuckle.
Comments: I realize there is only so much time to review whiskey since this isn't a paying gig but I can't fathom why it has taken me so long to review this. The brand is about 20 years old but as with many Sazerac brands it has been in short supply lately. I grabbed this bottle on a lark when I saw a couple tucked away at a local retailer last fall. It was $65 in Atlanta but you can get it as low as $45 if you know where to look. This is made from the #2 rye bourbon mashbill at Buffalo Trace. That's the same one used in Elmer T Lee, Blanton's and Hancock Reserve. This is ridiculously drinkable. I pulled it out a few days ago with the guys in the neighborhood who had never tried and we almost killed the bottle. All that was left was enough for my formal review and a sample for Gary. If I see it again I will grab another for sure. At $45 it's a must buy but in the $60+ range it's something you should certainly at least try.
Rating: Must Buy/Must Try