Ardbeg Perpetuum Islay Single Malt Scotch Whisky
47.4% ABV
$100
Website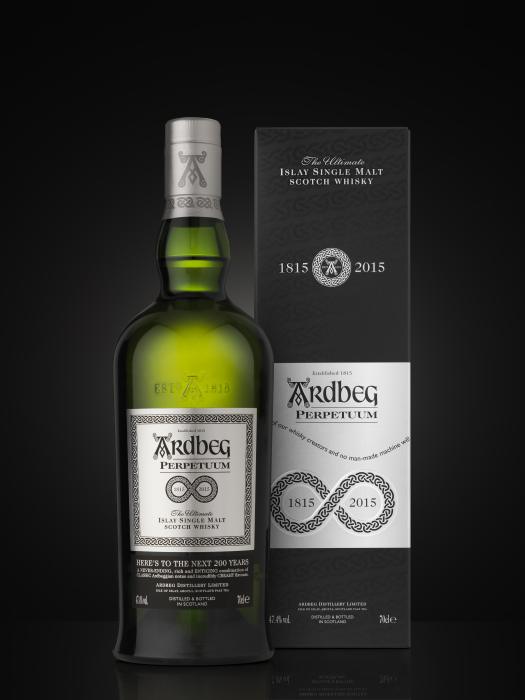 What the Distillery Says:
It has been 200 years since Ardbeg single malt whisky was first distilled on the Scottish island of Islay and 15 years since the legacy of this cult whisky was safeguarded by the foundation of the Ardbeg Committee.
The future of the Distillery was guaranteed in 2000 when it formed one of the most passionate and devoted whisky fan clubs in the world with the creation of the Ardbeg Committee – to ensure "the doors of Ardbeg never close again". Today the Committee has 100,000 members in over 130 countries and Ardbeg Day has become a global annual event.
To mark these memorable events, at this year's Ardbeg Day on 30th May 2015 with a 'Past, Present and Future' theme, committee members will have the opportunity to buy tickets (£199 per person) to attend the celebratory London event held at The Vinyl Factory, commemorating the Distillery's bicentenary and be amongst the first to taste Perpetuum, the new limited edition.
Ardbeg Perpetuum is inspired by the many styles, ideas and quirks of fate which have influenced Ardbeg over time; it combines different styles, flavours, dreams and trials. Connoisseurs will taste a never-ending, rich and enticing combination of classic Ardbeggian notes and incredibly creamy flavours.
Dr Bill Lumsden, Ardbeg's Director of Distilling and Whisky Creation, said: "Ardbeg's character has endured for 200 years and we hope it will continue for centuries to come. The 2015 Ardbeg Day anniversary bottling, Ardbeg Perpetuum, celebrates this milestone year with a recipe that includes some very old and young Ardbeg, silky Ardbeg from bourbon barrels and some spicy Ardbeg from sherry casks. The resulting expression combines classic notes of dark chocolate and treacle with sea-spray, peat smoke, vanilla and a hint of sherry casks, to create an unforgettable single malt with an aftertaste that is never-ending."
Ardbeg Perpetuum is a deep amber-coloured single malt, containing the unmistakable Ardbeggian aroma of tar, soot and pine resin, with dark chocolate, treacle and sea-spray. Its intense taste juxtaposes peat smoke and spice with creamy vanilla and milk chocolate notes, followed by a never-ending aftertaste of linseed oil, a hint of sherry cask, creosote and tar.
What Richard Says:
Nose: This is a very nice riff on the Ardbeg nose. The standard bottlings, not the limited releases. Tar with hints of licorice. Wet pine needles come through as it opens up with dark fruits a bit of cinnamon too.
Palate: A thick smokiness lays on top of layers of creme brulee and chocolate chips.
Finish: The finish is layers of dark chocolate and burnt out campfire.
Comments: This smells amazing and tastes even better. It hits all the high points that make Ardbeg a great malt without some of the recent limited releases' influence bringing it down. Ardbeg fans should love this. Although, those not big fans of Ardbeg aren't necessarily going to change their opinion based on this one.
Rating: Stands Out
We would like to thank Ardbeg for sending us a sample to review.