George Dickel Hand Selected Barrel – 9 yr (Dickel Distillery Bottling)
Barrel No. 03J30D20-4-19
51.5% ABV
$100
Website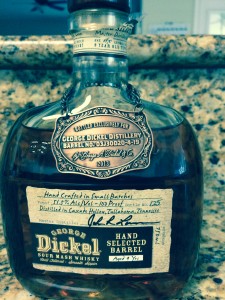 What the Distillery Says:
George A. Dickel & Co. is very proud to offer you this special hand selected, handcrafted Tennessee whisky. We have carefully chosen a limited number of barrels to be sold one at a time to only our most discerning loyal customers. These barrels hold our most precious, mellow George Dickel whisky at peak periods of maturation. We invite you to enjoy & savor this truly one-of-a-kind whiskey.
What Gary Says:
Nose: Corn, oak, caramel crème
Palate: Sweet corn, creamy mouthfeel balanced nicely with oak and a bit of cinnamon spice
Finish: Moderate, drying a bit sharply
Comments: Of the three Dickel Tennessee whiskeys, this was hands-down my favorite. Still reminds me of corn whiskey more than bourbon, but the additional age gives it more depth and balance. While I like this the best, it doesn't hit me for the price they ask – let alone the price some folks apparently pay at the distillery gift shop – not to name any names. However, if you are a fan of Dickel 8 or 12, you might find it is worth the price.
Rating: Stands Out
What Richard Says:
Nose: After nine years it is starting to smell more bourbony with more vanilla and oak but the corn still dominates.
Palate: The proof helps the palate a lot. It's a more viscous mouthfeel with a creamy sweetness like corn pudding. The oak and vanilla carry through from the nose nicely.
Finish: Dry wood with hints of black pepper and cinnamon.
Comments: This is a pretty good pour. I can't recommend you buy it because from the distillery it's $100 before tax and that's just ridiculous. The hand selected barrels available at retailers are more in the realm of $45 and for that I would pick one up. The funny thing with these Dickels is that no matter how old they are they are still very corn forward. Much more so that other high corn mash whiskeys. I wonder if the filtration processes their whiskeys go through can't strip out some of the "impurities" and oils from the corn as well as the rye, and barley.
Rating: Stands Out