Balblair Highland Single Malt Scotch Whiskey 2003
46% ABV
$65
Website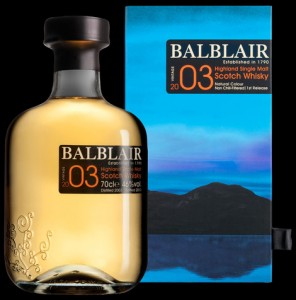 What the Distillery Says:
Launched alongside 1990 & 1983 in November 2013, Balblair Vintage 2003 replaces Vintage 2002. The American oak, ex-bourbon barrels used in maturation impart toffee, butterscotch and vanilla notes.
Tasting Notes
Appearance: Balblair 2003 is golden amber in appearance.
Aroma: On the nose there are the signature Balblair aromas: floral and fragrant punctuated with citrus fruits, apricots and honey.
Palate: On the palate it is full bodied, with notes of oranges, lemon, honey and spice.
Finish: The long lasting finish is sweet yet spicy; a superbly well-balanced dram.
What Richard Says:
Nose: Floral,fruity, slightly herbal with hints of vanilla. Citrus zest with a little back nuttiness.
Palate: A lovely light honey sweetness. As light as it is the higher proof gives it more of a viscous creamy mouthfeel that is very nice with the honey and just a bit of pepper on the back end. Poached pears and cereal grain compote.
Finish: A little bland and a wood not that reminds me of toothpicks dusted in ground white pepper.
Comments: This is a nice approachable and easy to drink dram. It's not terribly complex but it is terribly drinkable. I like it much better than the 2002 it replaced. The pricing is steep though.
Rating: Stands Out
We would like to thank Lukasz with Alembic Communications for sending over the review sample.