Balblair Highland Single Malt Scotch Whiskey 1999 Vintage
46% ABV
$80
Website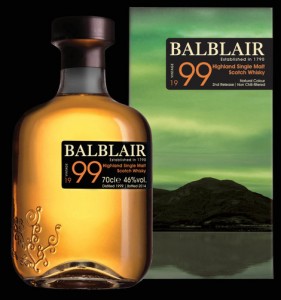 What the Distillery Says:
ummer 2014 sees the launch of the second release of the 1999 Vintage from Balblair Single Malt Scotch Whisky. Set to hit shelves at the end of June, Balblair Vintage 1999 will be available globally in Independent and Specialist Retailers.
Balblair 1999 replaces the award winning second release of the 1997 Vintage; the introduction of the 1997 Vintage took the core collection from three to four expressions. The 1999 Vintage will be presented in a premium opening box, joining the complete Balblair collection available in this luxury format.
Tasting Notes
Appearance: Balblair 1999 2nd release is copper in appearance with flecks of sparkling bronze.
Aroma: The American oak, ex-bourbon barrels and Spanish oak, ex-sherry butts used for maturation impart the signature Balblair aromas of honey and green apples, as well as notes of rich, fruity Christmas cake with a hint of spice, citrus fruits and vanilla.
Palate: On the palate it is full bodied, sweet and spicy in character, with hints of honey, vanilla and leather.
Finish: The finish is warm, smooth and long-lasting.
What Richard Says:
Nose: Fruit cake drizzled with a sherry reduction. It's smells much better than fruit cake tastes. Under ripe apples, leather and lemon zest.
Palate: Rich, spicy, sherry, and honey sweet with layers of leather and tobacco. This is delicious and drinks much older than it's years.
Finish: Woody, dry, and tannic on the finish. It lingers damn near forever.
Comments: This is a very nice whisky. Unlike so many others the palate delivers what the nose promises. The years spent finishing in a sherry cask have done wonders for the underlying Balblair malt. The finish is a bit tart, chalky, and tannic which I'm not crazy about but just keep drinking it and this isn't a problem.
Rating: Must Try
We would like to thank Lukasz with Alembic Communications for sending over the review sample.