Ardbeg Auriverdes Islay Single Malt Scotch Whisky
49.9% ABV
$100
Website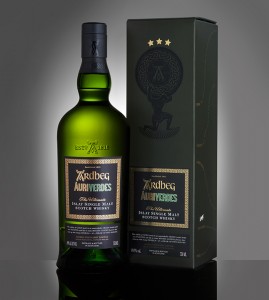 What the Distillery Says:
Ardbeg Distillery Releases Limited Edition "Auriverdes" – Limited Edition whisky will be released on Ardbeg Day – May 31st 2014
(MARCH 28, 2014) Ardbeg, four-time winner of the World's Best Scotch Whisky award – is announcing the launch of its 2014 Limited Edition Ardbeg Auriverdes. The new Ardbeg will launch globally on May 31st, as part of "Ardbeg Day"- the distillery's annual celebration of all things Ardbeg.
"Auriverde" a Portuguese term, is the combination of auri (meaning "golden") and verde (meaning "green") – the colors found in the iconic Ardbeg bottle, as well as the Brazilian Flag and a reflection of the "Ardbeg Day" salute to the 2014 World Cup.
Ardbeg Auriverdes has been matured in American oak casks, with specially toasted lids that were tailor-made for this formula. The toasting technique has given the whisky a unique flavour profile, producing a mocha coffee flavour at one end and flowing into creamy vanilla at the other – truly a dram of two halves.
Ardbeg Auriverdes follows the highly acclaimed, Limited Edition Ardbeg Galileo, which scooped the 'World's Best Single Malt' at the World Whisky Awards 2013. Ardbeg Auriverdes is bottled at 49.9% ABV and will be available for U.S. purchase at select embassy liquor stores ($99.99). For an embassy liquor store locater, please visit www.ardbeg.com .
Dr Bill Lumsden, Director of Distillation and Whisky Creation, explains:
"When creating Auriverdes, I had a distinct flavour profile in mind that I wanted to achieve, so I specifically created the heart of the recipe to bring that to life. It is a unique expression of Ardbeg which has exceeded all my expectations. It has the trademark Ardbeg undertones with a distinct new taste experience and an explosive mouthfeel which gives way to complex flavours of coffee grounds, liquorice, maple smoked ham, malty/biscuit notes, white pepper and a good sweet/salty balance."
He continues:
"We love to experiment and try new things at Ardbeg and we are in no doubt that Auriverdes will be a hit with our Ardbeg fans on Ardbeg Day!"
"Ardbeg Day" runs alongside the widely celebrated Islay Festival (the Feis Ile). It has become a key event in the calendar of malt whisky aficionados around the world, with thousands making the trip to the Island of Islay annually. "Ardbeg Day" will be celebrated in the form of a "Peat Football" tournament on May 31st at the Ardbeg Distillery and at participating Ardbeg Embassies around the world.
Ardbeg Auriverdes Taste Notes
Aroma: Tarry and herbal notes with hints of mocha
Taste: Coffee grounds pass to smoked root vegetables, while maple-cured bacon collides with hot-smoked salmon
Finish: A lingering, smoky vanilla note
What Richard Says:
Nose: Briney capers over salted cod. As it opens up in the glass the sea settles and more vegetal peat notes come through. If you leave it sitting still longer it's more of a thick dutch processed cocoa powder type of nose. It's very intriguing how dynamic and evolving the nose on this one is.
Palate: There is a surprising play of chocolate and vanilla here with a bit of citrus back to it. The smokiness is here but less prevalent than the nose but it's an almost greasy smokiness.
Finish: Smoky yet creamy. It fades with a hot spiciness that isn't all together unpleasant. Give it more time to clear the palate though and a nasty kind of marmite like flavor comes out.
Comments: Wow. This is the one they should have called "rollercoaster". This is the amazing, ever evolving dram. The more time you give it seems to yield the shedding and exposure of more layers of flavor. This definitely an intellectual dram (which unfortunately most of Dr. Lumsden's limited release seem to be as of late) but not something I would be reaching for again anytime soon.
Rating: Average