Balblair 2002 Vintage Highland Single Malt Scotch Whisky
46% ABV
$60
Website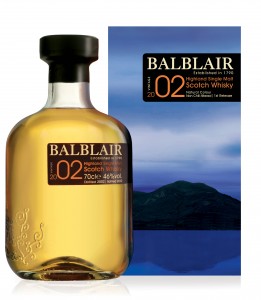 What the Distillery Says:
Balblair 2002 is a Highland single malt Scotch whisky that has been uniquely marked with the age the whisky has been laid down.
Balblair was established in 1790, making it one of the oldest distilleries in Scotland and the oldest working distillery in the Highlands. Every year, Balblair Distillery Manager John MacDonald tastes, judges and selects straight from the cask, bottling at exactly the right moment, when the balance between the age and the character of the whisky is at its best. Small batches are made available when the time is right, making Balblair a malt that is released in vintages.
Tasting Notes
Color: Balblair 2002 has a sparkling gold appearance.
Nose: On the nose there are the signature Balblair aromas: floral and fragrant with zesty fruits such as oranges and lemons. The American oak, ex-bourbon barrels used in the maturation impart toffee and vanilla notes.
Taste: Full-bodied, yet sweet and spicy in character, with hints of oranges, lemons, green apples, toffee, and vanilla. There is a typical long finish as the floral and fruit notes develop and combine with the initial spice and sweetness from the American oak casks.
What Richard Says:
Nose: Bright cherries, overripe bananas, kiwi, and flowery. A Caribbean Banana Mama?
Palate: Milk chocolate, raw nuts, vanilla, light sweet caramel. Caramel flan with a kiwi reduction.
Finish: Light, floral finish with very little wood or burn.
Comments: Wow, what a difference a couple of years makes. The 2002 vintage is head and shoulders above the 2000 we reviewed earlier. A light aperitif dram for sure but very nice.
Rating: Stands Out
We would like to thank the Thomas Collective and International Beverage for providing samples for review.