Balblair 1989 Vintage Highland Single Malt Scotch Whisky
2nd Release
43% ABV
$130
Website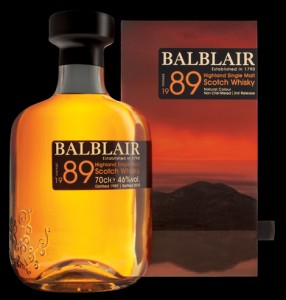 What the Distillery Says:
Balblair Vintage 1989 2nd release was introduced in 2010. A full-bodied malt with aromas of raisin, green apple and hints of banana and lemon.
Tasting Notes
Appearance: Balblair 1989 is mid-amber in appearance with honey-gold highlights.
Aroma: The American oak barrels, used in the distillate's maturation, lend a warm toffee, vanilla fragrance.
Palate: On the palate there are raisins and fruits with a rich spiciness.
Finish: Long, complex and smooth finish.
What Richard Says:
Nose: Lovely nose of bright floral notes, bananas, and canned apple pie filling.
Palate: Fruity sweet with the intensity of dried fruit and raisins.
Finish: A little black pepper on the way down. There's an odd rubber/medicinal note mid finish and then it smooths out into mellow oak.
Comments: A very nice middle aged expression of Balblair. This one is for those whisky drinkers with a sweet tooth. The finish is a little off putting but then just keep drinking so that it stays on the palate and problem solved!
Rating: Stands Out