an Cnoc 22 Years Old Highland Single Malt Scotch Whisky
46% ABV
$ 159
Website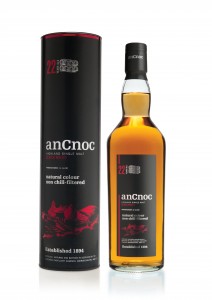 What the Distillery Says:
Matured predominately in American oak, ex-bourbon casks as well as Spanish oak, ex-sherry butts, anCnoc 22 Years Old displays complexity and a wealth of character but its long lasting rich, smoky finish sets this dram apart from the younger offerings.
Colour: Bright gold with a copper tint.
Nose: Sweet and spicy with notes of honey and toffee. Warm Christmas cake is accentuated by the freshness of lemons, green apples and cut flowers. All wrapped in a delicate whiff of wood smoke.
Taste: Full bodied and complex. Distinct crushed clove, raisin and blood orange flavours are at the front, closely followed by layers of fragrant vanilla and leather. The long, rich finish is smoky and spicy.
What Richard Says:
Nose: A slight meaty sherried note. A bit of crisp citrus drizzled with honey.
Palate: Very nice round body with a sherry accent but not too much. It reminds me of my own homemade scones: raisins, allspice, cinnamon and ginger.
Finish: Aggressive at 46% but not hot. Cocoa powder and dried fruits with a nice oak base.
Comments: Delicious. The mix of sherry and exbourbon wood make for a balanced sherry influence without being in your face about it. The whole whiskey from nose to finish shows great depth and balance.
Rating: Stands Out
We would like to thank The Thomas Collective and International Beverage for sending us a sample for review.