Rhetoric Kentucky Straight Bourbon Whiskey Aged 20 Years
45% ABV
$90
Website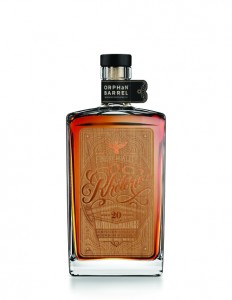 What the Bottler Says:
The Orphan Barrel Whiskey Company was started to share barrels of rare and delicious whiskey, hidden away and nearly forgotten in the back of rickhouses and distilleries.
Stories of these lost whiskeys have become the stuff of legend. Our goal is to bottle these rare, small offerings for the world to try.
Every Orphan Barrel is hand bottled in Tullahoma, Tennessee, to ensure that these rare whiskeys are treated with the care they deserve – because some of them will only be available once. And once they're gone, they're gone forever.
Ten steps ahead in a dance of discourse, Rhetoric candy-coats and compels with equal amounts of art. Proper, eloquent, and poetic, this Kentucky Straight Bourbon Whiskey speaks a language to which you could listen for hours.
Each sip starts with a smoky, leathery nose that translates into vanilla oak, toasted rye, and dried fruits, and concludes with a long, full finish of cherry blossom and bitter chocolate.
An ever-changing specimen, Rhetoric is an experiment in how barrel maturation imparts a lasting impression year after year. Each new year results in an older and wiser limited release from remaining maturing stock. A conversation piece if there ever was one.
What Richard Says:
Nose: More oak on the nose than the Barterhouse with notes of vanilla, orange marmalade, wood sap, and cherry blossoms.
Palate: Dry yet creamy at the same time. It's very weird. Leathery with heavy handed oak, a little honey, and pepper spice.
Finish: Heavy oak and a dry tannic finish. This one wears it's age on the finish hanging out there for everyone to see.
Comments: I don't like this one nearly as much as the Barterhouse. It seems a few years past its prime which is sad because the gimmick with Rhetoric is that they are holding back some of the same stock and releasing it in coming years as a progressively older version.
Rating: Stands Out