Four Roses Single Barrel Barrel Strength OESO Private Selection
57.0%
$55 to $70
Website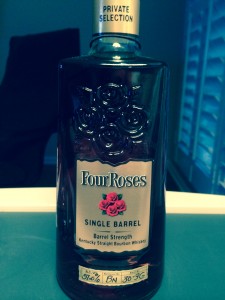 What the Distillery Says:
The Private Barrel Program is offered to Four Roses retailers only. But as a discerning Bourbon drinker, you also get to enjoy the benefits of our Four Roses Private Barrel Program at your local participating retailer.
From time to time, a limited number of exceptionally smooth and complex barrels from any or all of our 10 Bourbon recipes present themselves to our Master Distiller. Each barrel is aged between 8 and 10 years. We then invite our retailers to a private tasting and selection of their favorite barrels. Once chosen, each selection is bottled and private labeled as a non-chill filtered Single Barrel at Barrel Strength in limited quantities of approximately 200-230 bottles.
75% Corn, 20% Rye, and 5% Malted Barley mashbill with yeast strain imparting robust fruity flavor.
What Richard Says:
Nose: Creamy caramel, orange marmalade, crushed mint, vanilla, cinnamon, licorice and a slightly meaty back note.
Palate: Chewy cherries jubilee, Mint Juleps, vanilla greek yogurt and bit of char.
Finish: More crushed mint with a mild oakiness and slow fade of barrel char.
Comments: This specific bottle was a Georgia Bourbon Society selection.