Four Roses Single Barrel Private Selection
50.0%
$35 to $40
Website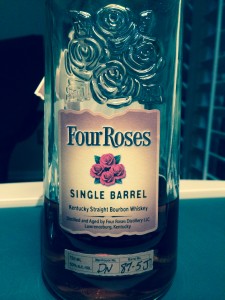 What the Distillery Says:
The Private Barrel Program is offered to Four Roses retailers only. But as a discerning Bourbon drinker, you also get to enjoy the benefits of our Four Roses Private Barrel Program at your local participating retailer.
60% Corn, 35% Rye, and 5% Malted Barley mashbill with a yeast strain imparting delicate fruity flavor.
What Richard Says:
Nose: Burnt caramel, vanilla, and fresh berries.
Palate: A nice rye spiciness of black and red pepper. A vanilla nougat followed by toffee candies.
Finish: An oak finish of extreme length with hints of pepper, cinnamon, and mint.
Comments: This specific bottle was a nine year old store selection for Total Wine.