Barterhouse Kentucky Bourbon Whiskey Aged 20 Years
45.1% ABV
$80
Website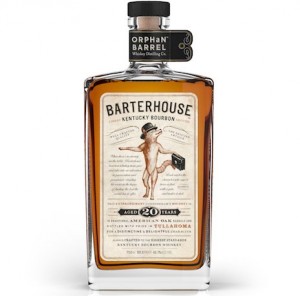 What the Bottler Says:
The Orphan Barrel Whiskey Company was started to share barrels of rare and delicious whiskey, hidden away and nearly forgotten in the back of rickhouses and distilleries.
Stories of these lost whiskeys have become the stuff of legend. Our goal is to bottle these rare, small offerings for the world to try.
Every Orphan Barrel is hand bottled in Tullahoma, Tennessee, to ensure that these rare whiskeys are treated with the care they deserve – because some of them will only be available once. And once they're gone, they're gone forever.
Twenty years in American Oak will make your average spirit a bit mellow. Take all the fight out. Well this here is no ordinary spirit, and twenty years is long enough to pick up a trick or two. For one barrel in particular, it was long enough to develop the gift of a silver tongue. The old rickhouse hands had it written off as a rumor. A character so smooth, it could clean out the card sharps and take the shirt off a travelling salesman's back.
But the rumors were true. And when the chips are in, a smooth operator can be mighty persuasive indeed. One sip of Barterhouse Kentucky Straight Bourbon Whiskey and you just might find yourself forgiving Robert Johnson for trading his soul to the very devil himself.
Tasting notes include warm biscuits and buttercream, with spice and brown sugar in the finish.
What Richard Says:
Nose: Let it settle in the glass and nose comes across all warm vanilla cream and caramel. Agitate it a bit and the wood and cinnamon pop to the front.
Palate: A nice creaminess to the mouth for a sub 100 proofer. Burnt vanilla beans, cinnamon Red Hots, a little orange zest, and peach pie.
Finish: The finish is heavy on the wood but after 20 years in a new charred oak barrel you would expect that. Even still, Barterhouse wears the wood and age well. The wood on the finish is guiding hand out of the bourbon not a wallop with the oak stick.
Comments: Troll the internet for "Barterhouse" and it won't take too long before you start reading the bad press. A lot of it is around the story of the "lost" barrels or a general disdain for the British company's folksy bottling and naming. Regardless the reason, many people are not liking this. I'm not one of them. I find the packaging and story silly. Really silly considering it comes from the international drinks behemoth Diageo. But damn it, the bourbon is good. It's not the least bit over oaked given it's age and it's a damn fine drink. Plus, finding a sub $100 20 year old bourbon now is almost impossible.
Rating: Must Buy