Longmorn Single Malt Scotch Whiskey Vintage 1992, Bottled 2013
52.4% ABV
$114.99
Website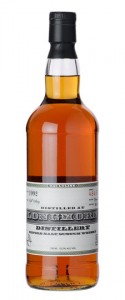 What the Bottler Says:
Oh Longmorn, you elusive lovely creature. Last year, we bottled a Longmorn from a fresh sherry butt that was arguably our most positively received whisky of 2012. All the whisky geeks went mad and snatched up every bottle moments after it arrived. This year we return with another Longmorn of a similar price and aged, but this time it's coming from a second fill butt. It's not the sweet up-front style of last year's, but instead a powerful whisky filled with fresh vanilla, dark dense fruit, and aromas of toffee and spice. This is a fabulously complex whisky with a roundness that's undeniably pleasurable. Again don't expect a redux of last year's cask, but a special whisky that stands tall on it's own merit. All lovers of this splendid Speyside distillery, located just south of Elgin, should buy now before the price goes up. A very welcome addition to the Faultline family.
What Richard Says:
Nose: The age and second fill nature of the sherry barrel make for a surprisingly nuanced nose. Dark berries, stewed prunes and raisins, and treacle syrup drizzled over panna cotta.
Palate: Rich, mouth coating, and unctuous. There are layers flavors here running the gamut of herbal, floral, and fruity with a nice viscous non-cloying sweetness to round it all out. All this lays nicely over a rich malty backbone.
Finish: There's very little wood given the age. What there is seems light like a damp toothpick. It's a little dry and slightly tannic but very clean.
Comments: How much do I like thing bottle? Well, after trying it a friends house earlier this year I rearranged my travel plans to Napa and Sonoma in June so that I could swing by K&L in San Francisco to get a bottle. Yeah…that much. You don't see much Longmorn around but when you do it's usually pretty damn good.  This is in the top three Longmorn's I've ever had.  There's a half-joke that goes around the scotch industry that Longmorn is every distiller's second favorite malt. Try it and you'll see why.
Rating: Must Buy