Evan Williams Kentucky Straight Bourbon Whiskey
Single Barrel Vintage 2003
Barreled on 3-31-03
Barrel No. 486
Bottled on 5-23-13
43.3% ABV
$20 to $27
Website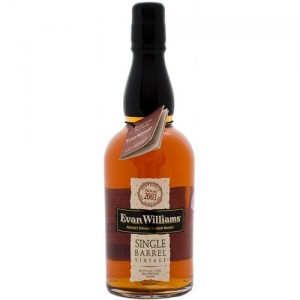 What the Distillery Says:
The world-renowned Single Barrel Bourbon from 6th and 7th generation father and son Master Distillers Parker and Craig Beam has garnered many prestigious awards since it was introduced in 1994. These include "Spirit of the Year – American Whiskey" from Food & Wine Magazine; "Domestic Whiskey of the Year" from Whisky Advocate; and "Whiskey of the Year" from The Spirit Journal, the first Bourbon upon which the publication has bestowed this prestigious title.
"Even though the mashbill—the grain recipe—is the same from year to year, we try to achieve a particular flavor profile with each vintage," noted Parker Beam. "As this is our 18th vintage in the Evan Williams Single Barrel series, we feel like we have got the process of determining the taste profile and finding barrels that meet that profile pretty much perfected. This vintage is maybe a bit softer, with barrels drawn mostly from the middle floors of three of our best ventilated rickhouses."
As with the previous 17 vintages, which are now highly sought after collector's items, each bottle of the 2003 edition of Evan Williams Single Barrel Vintage Bourbon is marked with the exact date that it was placed in oak and bottled, in addition to the exact serial number of the single barrel from which it was drawn.
The 86.6 proof Bourbon is matured in natural open-rick warehouses under the careful supervision of Heaven Hill's father and son Master Distillers, who monitor the progress of each year's vintage to ensure it maintains its intended flavor profile and superb quality.
What Richard Says:
Nose: A slight smokiness floats in over the stone fruits and vanilla.
Palate: Light and ridiculously easy to drink. A little spice pinches around the edges but mostly its a nice mellow vanilla and toffee sweetness. Honey, mint, and something that reminds me of store bought pina colada mix show up as you give it time to roll around on the tongue.
Finish: Mild and of medium length, the finish leaves wood to the side and slowly fades out on cinnamon, vanilla, mint.
Comments: If you're a long time reader or just someone who took a look at our review archive you can see we've been reviewing these annual releases for years. I don't have much to say about this release that I haven't said of previous releases. In a nut shell, it's a great buy and you can't go wrong so pick one up.
Rating: Stands Out, Great Value