The Balvenie Single Malt Scotch Whisky RumCask Aged 17 Years
43% ABV
Discontinued
Website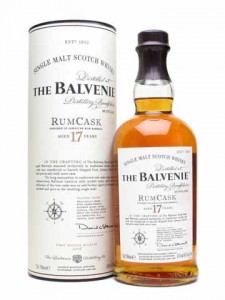 What the Distiller Says:
The Balvenie RumCask 17 Year Old was matured in traditional oak casks before spending a second period of maturation in rum casks shipped from Jamaica.
TASTING NOTES
NOSE A vibrant aroma with intense floral and fruity notes. Orange peel, lavender, coconut and a hint of ground nut oil.
TASTE Beautifully sweet with characteristic Balvenie vanilla notes backed up with subtle spiciness of cinnamon and silky oak.
FINISH Exceptionally smooth and long lasting
What Richard Says:
Nose: Heavy rum influence on the nose. The combination leaves it almost brandy-like. At first you would pick the preceding casks as bourbon due to the rum influence but give it time and a nice sherry note comes floating out.
Palate: Rich, creamy, and rather sweet. The sherry with the rum finishing definitely pushes up the sweetness factor. Nice toffee and honeysuckle notes. A good dose of vanilla and mint add to the mix. Honeydews and mangoes round out the taste tour.
Finish: A like hot but quickly mellows to a slow soft wood. This is a little more understated than I would've expected.
Comments: A very dessert appropriate Balvenie. The rum and it's resulting sweetness may seem a little over played for many palates but I love it.
Rating: Must Try