Germain-Robin Old Havana Alambic Brandy
40% ABV
$105 to $115
Website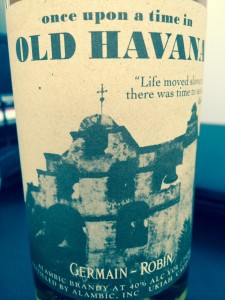 What the Distiller Says:
Rich deep fruit, nicely oaked, very very mellow. In 1995, during the cigar craze, we bottled a blend called "For the Lover of Fine Cigars". When the craze died down, we changed the label to Old Havana, then (2001) decided to use the components for XO production. In 2009, we used the 5 surviving barrels to start a solera. "One of the world's great spirits"(Mens' Journal) Armagnac lovers prefer it to the XO. Unfiltered.
What Richard Says:
Nose: Rich dark stone fruits, honeysuckle, vanilla, toffee bars, and a rich sweetened cream.
Palate: Smooth, refined, not brash at all. This old gentlemen opens to the door to his library and enters with aged grace. Light fruity sweetness, well balanced with the wood and nice spiciness to play well with those cigars you've been laying down in your humidor.
Finish: Slightly oaked with nice layers of tobacco, and leather.
Comments: You'll notice from the picture above that the label is the old style after they changed to Old Havana but before the 2009 solera re-imagining. If you find this grab it because it is truly delicious. If I get my hands on the new version before this one is gone I'll do a side by side but I wouldn't worry too much about which version you pick up. I haven't had a Germain-Robin brandy that I didn't like. For the record this is probably one of my top three favorite cigar accompanying beverages (along with the old version of Dalmore Cigar Malt[not the newer Reserve] and the Cognac barrel finished Parker's Heritage).
Rating: Must Buy