Bas Armagnac Dartigalongue XO
40% ABV
$35 to $45
Website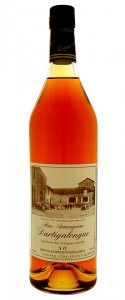 What the Distiller Says:
In 1838, under the reign of Louis Philippe, our ancestor Pascal Dartigalongue founded his Armagnac establishment in Nogaro, right in the heart of the Bas Armagnac Appellation, renowned to be the best Cru. Since then, traditions were passed on from father to son. Being hte oldest House in Armagnac, we are understandably committed to produce the best Armagnacs.
What Richard Says:
Nose: Rich, deep, with dark fruit, and rich sweetness. Creme brulee, orange zest, and stewed stone fruits. This reminds me of some exceptionally old rums.
Palate: Lighter of palate than the nose would belie. The flavors are very muted and slow to develop.
Finish: Clean, slightly crisp and short.
Comments: This is almost light to the point of being bland. It's more of an aperitif brandy than one to sit with and contemplate into the evening.
Rating: Average