anCnoc Rutter Highland Single Malt Scotch Whisky
46% ABV
$85
Website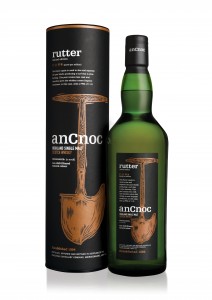 What the Distillery Says:
anCnoc (pronounced a-nock) is a single malt Scotch whisky created using a traditional process that has changed very little over time.
anCnoc is Gaelic for the nearby Knock Hill, and its home distillery is Knockdhu, which means "black hill" in Gaelic. Located on the very edge of Speyside, the Knock estate sits on land rich in peat.
anCnoc Rutter, one of the first releases from the Limited Edition Peaty Collection, honors the original style of whisky in the region, using natural peat from the land. The peaty range brings the phenol content of the whisky
into focus by displaying its PPM (parts per million) level on the bottle. Rutter is the name for the spade used in sizing and separating peat blocks that produces a slow burning turf. This peat gives the whisky a more fragrant
smokiness, in this case, with a PPM of 11. The 46% ABV allows the house style to shine through.
Tasting Notes
Color anCnoc Rutter is sparkling gold in appearance.
Nose Initially very smoky, it quickly unveils the unmistakable anCnoc character with delicate spices, juicy pineapples and gentle vanilla. Rich and warming.
Taste Full-bodied and bursting with peaty richness. Soft undertones of honey, creamy vanilla, toffee and leather are punctuated by the freshness of green apples.
What Richard Says:
Nose: The first thing that comes out of the bottle it bright fruity and floral notes like a banshee escaping from a room. That fades to a pleasant smokiness layered with shortbread cookies and vanilla cream.
Palate: The creamy Bit-o-honey jumps out first but lays down in front of the spicy peppered peat.
Finish: Long and lingering leather, campfire, and iodine.
Comments: So, there's a trio of these (we only got samples of the first two) and this is first and lightest peated version. I don't see much anCnoc locally so it's hard to compare to the usual house style but it is a nicely layer peated whisky. It's not knock you over the head peat bomb type whisky. Rather, there is depth and layers here. Spend time with it and it will show you many different angles. One of the better peated highlanders I've had recently for sure.
Rating: Stands Out
We would like to thank Amy with The Thomas Collective for sending over samples for review.