AnCnoc Flaughter Highland Single Malt Scotch Whisky
46% ABV
$85
Website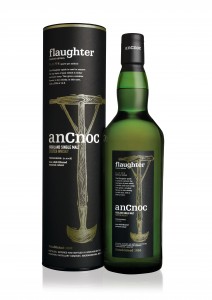 What the Distillery Says:
anCnoc (pronounced a-nock) is a single malt Scotch whisky created using a traditional process that has changed very little over time.
anCnoc is Gaelic for the nearby Knock Hill, and its home distillery is Knockdhu, which means "black hill" in Gaelic. Located on the very edge of Speyside, the Knock estate sits on land rich in peat.
anCnoc Flaughter, one of the first releases from the Limited Edition Peaty Collection, honors the original style of whisky in the region, using natural peat from the land. The peaty range brings the phenol content of the whisky into focus by displaying its PPM (parts per million) level on the bottle. Flaughter is the name of the spade used to remove the top layer of peat, which is richer and more rooty, giving the whisky a heavier, smokier flavor, in this case, with a PPM of 14.8. The 46% ABV allows the house style to shine through.
Tasting Notes
Color anCnoc Flaughter is pale gold in appearance.
Nose Initially smoky and ashy. Underneath, fresh vanilla notes ooze softness and creaminess while a sharper hint of sticky toffee offers a balancing sweetness
Taste A warming and smooth experience; peaty and intense but remarkably rounded, it flickers with hints of fragrant pipe tobacco, orchard fruits, brown sugar sweetness and a slight medicinal overtone. An intensely flavorsome, smoky and smooth finish.
What Richard Says:
Nose: Dusty and smoky…like an old ashtray but not as unpleasant. Even though the strength is the same, the alcohol comes through much hotter than the Rutter. There is a little of that vanilla cream at the back but it's hard to find through the soot and alcohol.
Palate: It comes off a little sharp and astringent at first. With time it opens to orange zest and unripened apples.
Finish: Old (used not aged) cigar tobacco, dry, chalky.
Comments: Wow. I could not imagine that the Flaughter and the Rutter could be so different. The Flaughter leaves me wanting to find something else to drink. It's not awful or anything. It's more like a song slightly off key. Everything just isn't jiving with this one. Since they are the same price I would definitely grab the Rutter over the Flaughter.
Rating: Average
We would like to thank Amy with The Thomas Collective for sending over samples for review.