Glenmorangie Ealanta Highland Single Malt Scotch Whisky
46% ABV
$90 to $110
Website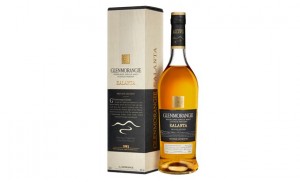 What the Distillery Says:
Glenmorangie Ealanta is the fourth annual release in our award winning Private Edition range.
Scots Gaelic for 'skilled and ingenious', Ealanta is a 19 Years Old Glenmorangie, fully matured in virgin American white oak casks with a provenance that stretches all the way to the mountains of Missouri and the Mark Twain National Forest.
The porous oak wood, air-dried for over 2 years, but in this instance never seasoned with any other whisky, allows our precious spirit to extract maximum flavours as nature intended – producing a whisky of incredible taste and smoothness, with layers of vanilla and candied orange peel, interwoven with sugar coated almonds.
Non chill-filtered
Aroma: Toffee, butterscotch, vanilla, and a curious hint of stewed fruits. Classic Glenmorangie mentholic top-note, interwoven with an unusual nuttiness, reminiscent of Brazil nuts in toffee.
Taste: Candied orange peel, sugar coated almonds, sweet vanilla and marzipan.
Finish: The taste goes on and on, finally giving way to some oak-derived spices – clove, ginger and a hint of aniseed.
Colour: Burnt Ochre
What Richard Says:
Nose: Rich and fruity. This nose oozes vanilla cream soda.
Palate:Praline pecans, orange mints, and herbal. This beauty is aggressively viscous. It wraps around your tongue and won't let go.
Finish:The woody dryness leaves quickly leaving you with malty pumpkin pie spices and a licorice like aftertaste of fennel seed or anise.
Comments: More please! Sadly, I only recently opened the bottle I purchased and this one time limited release (which came out last year) is getting harder to find. I would grab another one to squirrel away. This is one of my favorite Glenmorangies yet.
Rating: Must Try