Glenmorangie Companta Highland Single Malt Scotch Whisky
46% ABV
$90 to $110
Website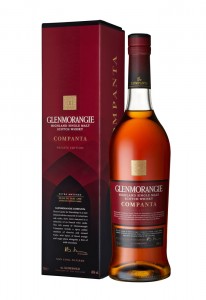 What the Distillery Says:
Inspired by Dr Bill's travels across France's greatest vineyards and the friends made along the way, Glenmorangie Companta (Scots Gaelic for 'friendship') is a refined balance between bold spice and rich, smooth sweetness; the result of a careful assemblage of spirit extra matured in Grand Cru casks from Clos de Tart and those of a lusciously sweet fortified wine from Côtes du Rhône.
"The smaller vineyards of the region don't seem to worry about yields, costs, or timings. They work tirelessly, simply to produce the very best wine. In the same spirit as Glenmorangie, they stop at nothing in the pursuit of perfection.
"This shared philosophy inspired me to create the ultimate tribute to my longstanding love for French vineyards and the friends that I've had the pleasure to make throughout my travels." – Dr Bill
Non chill-filtered
Aroma: On the nose, Companta exudes rich, 'autumnal' scents of red berries and damp forest floors, with a hint of fragrant woodsmoke complementing notes of aromatic, nutty oak.
Taste: Upon tasting, a spicy palate redolent of cherries and stewed fruits is slowly revealed, as notes of sugared plums, blood orange and rose-hip syrup emerge alongside milk chocolate and brown sugar.
Finish: Companta lingers on with a rich, mouth-coating finish.
Colour: Cherry red
What Richard Says:
Nose: Leaf compost. Like if you pile up your fall leaves in the corner of the backyard and go digging in it in the spring. Agitate it a little and it opens up to a rich nuttiness with a nice sherry note.
Palate: Light sweetness that slowly builds to a rich more molasses flavor with hints of berry jam. This is very viscous.
Finish: Long, wet, musty oak.
Comments: Looking back over my notes on this one it doesn't look like it would be good but really it is.

I was weary of this expression because probably my least favorite Glenmorangie ever was the old Burgundy wood finish but this one works very well. Nice balance and very earthy.
Rating: Stands Out