Delilah's Blended Scotch Whisky
40% ABV
$60 – $75
Website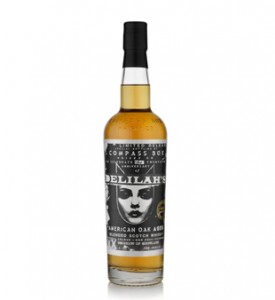 What the Blender Says:
• Delilah's is a Limited Release Compass Box homage to Delilah's, Mike Miller's legendary punk rock whisky bar in Chicago, to celebrate the bar's 20th anniversary in 2013.
• The whisky was developed jointly by John Glaser and Mike Miller as an expression of their shared vision that great whisky should be enjoyable by all.
• Delilah's is an intense yet subtly complex Scotch whisky aged in a mix of experimental new American oak barrels and rejuvenated American oak hogsheads.
• It has been created to be perfect served as a shot with a beer.
If you like whisky and you like to have fun, you will love Delilah's, which has been voted many times "Best whisky bar in America".
At Delilah's you can drink your whisky any way you like. In classic American style, you will always find an evening special for a "shot and a beer" – Which is the inspiration for this whisky. We've created a Scotch whisky that works perfectly as a shot with a beer. To achieve this, we have chosen a combination of single malt and single grain whiskies, all of which have been aged in American oak casks, some of which were new. So you get lovely, intense richness, vanilla character and sweetness. It's an unusual style for Scotch whisky, but one that we think is absolutely delicious drunk as a shot along with a beer.
Happy 20th Anniversary to Mike Miller and Delilah's!
Availability
Limited Release of 6,324 bottles. Bottled in July 2013.
Flavour Descriptors
Rich and sweet, with intense yet subtly complex, honeyed and seductive fruity notes, cereals and vanilla-cream.
Recommendations
Delicious drunk as a shot along with a beer or sipped neat with chilled water to taste.
Distillery Sourcing
Single malts from the towns of Alness and Longmorn (approx 50% of the recipe); single grain whisky from Fife (approx 50% of the recipe).
Bottling Details
Bottled at 40%. Not chill filtered.
Natural colour.
What Richard Says:
Nose: Air dried oak staves, orange blossom honey, and fresh churned butter.
Palate: Amazingly creamy in the mouth. Vanilla sugar hints at the edges as the whisky coats the mouth.
Finish: A whip crack of wood and pepper and then a slow fade.
Comments: Delicious! This is kind of like Asyla taken up a notch. This is one of those whiskies you have to be careful with because it's dangerously drinkable. You could tear through a bottle and not realize it until you're on the floor. It's a limited edition so snap it up while you can!
Rating: Must Buy