Great King Street: The Artist's Blend Blended Scotch Whisky
43% ABV
$40-$45
Website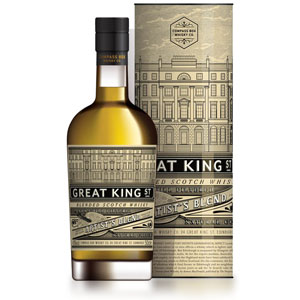 What the Blender Says:
Great King Street is a new line of craft Scotch whiskies created by the Compass Box Whisky Company for people who love great whisky.
In a world where malt whiskies get all the attention, people often overlook the pleasures of good Blended Scotch. This is the style of Scotch whisky that combines flavourful single malt whiskies with delicate, elegant single grain whiskies. We believe it is time for the world to take a fresh look at this style, and that is why we have created Great King Street.
There are good reasons why the blending of grain and malt whisky has been the mainstay of the Scotch business for well over 150 years. Well-made Blended Scotch whiskies have an elegance and approachability that make them a joy to drink. They are far more versatile than other styles of whisky, equally enjoyable drunk on their own or with ice, soda water, or in cocktails.
Due to the preponderance of poorly made, inexpensive Blended Scotch whiskies on the market, many people assume any bottle of Scotch bearing the term 'blended' is somehow inferior. Not if you make it the way we do. With Great King Street we hope to enlighten people to the joys of a well-made Blended Scotch because they open up so many new opportunities to enjoy great whisky.
We believe in transparency. These days, more and more people are interested to know what is in their whisky. Here is a breakdown of the whisky components of Artist's Blend.
WHISKY (Spirit Character)
A Lowland Grain Whisky (fruity/perfumed) 46%
B Northern Highland Single Malt (malty/fruity) 28%
C Northern Highland Single Malt (grassy/perfumed) 17%
D Speyside Single Malt (meaty) 9%
Here is a breakdown of the wood components of Artist's Blend.
WOOD (Flavour Impact)
1 First Fill American Oak Barrel (vanilla) 66%
2 New French Oak Finish {New-Headed Barrel} 26%
(Grilled Marshmallow, toastiness, roasted coffee)
3 First Fill Sherry Butt (wine, dried fruits) 8%
What Richard Says:
Nose: As soon as you open the bottle vanilla sugar starts to waft out. Behind the sweetness it is very light, herbal, and delicate with minor sherry notes. After it ssites in the glass a bit an odd mustiness sets in so let it sit too long. 😉
Palate: Finish: The whisky oozes vanilla, floral sweetness, and a creamy buttery mouth feel. Again, as it sits and aerates it changes a bit and a little wood bite kicks in.
Finish: This lingers with long, slow oak, aged tobacco, and tannic bitterness.
Comments: Are you looking for a new blend to tray and deep stocked in your bar? Look no further. This is a delicious and very approachable dram. John Glaser's desire to create an everyday blend succeeds with flying colors.
Rating: Stands Out