Powers Gold Label Irish Whiskey Special Reserve Aged 12 Years
40% ABV
$35-$50
Website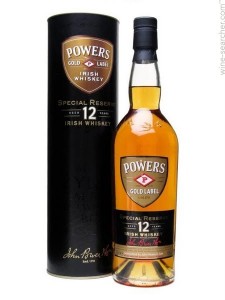 What the Distiller Says:
Powers 12 Year Old Special Reserve was launched in 2000. It retains the classic Powers' spicy, honeyed, full-bodied flavour, enhanced and enriched by years of extra aging in carefully selected American oak barrels. It is best enjoyed neat or with a little water.
Nose
Spicy, honeyed, with a touch of perfumed oils, it is full-bodied and flavoursome.
Taste
The familiar taste of Ireland's favourite whiskey is enhanced by long ageing to reveal a spicy complexity and additional velvet smoothness.
Finish
The velvet smoothness is finished with a distinguishing touch of gentle woodiness.
What Richard Says:
Nose: The nose is light and floral but it has a hearty backbone that foretells the high pot still content. There is also a slight sherry back note as the nose opens up. This one is a little coy and evasive.
Palate: The whiskey is creamy and approachable. It reminds me of a light vanilla custard or honey drizzled yogurt. As it coats the mouth a flavor of overripe pears comes out.
Finish: This is very dry with surprising hit of burnt peppercorns and wood.
Comments: The finish is a little surprising and off-putting on this one. It doesn't seem to flow from the palate like the nose to palate transition. It is more of an abrupt about-face. This is still a very drinkable and enjoyable whiskey but the finish make syou want to keep drinking to avoid the finish. I'm not sure if that is a good or bad thing.
Rating: Stands Out