Cutty Sark Prohibition Edition Blended Scotch Whisky
50% ABV
$29.99
Website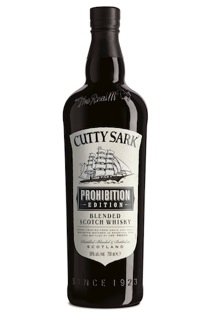 What the Blender Says:
Cutty Sark is announcing a new edition to its line of blended Scotch whiskies. A nod to the brand's origins during the Prohibition era, Cutty Sark Prohibition Edition Blended Scotch Whisky pays tribute to the style of liquid consumed during the 1920s.
Cutty Sark Prohibition Edition (coined "Cutty Pro" by its early adopters) salutes the notorious Captain William McCoy, who courageously smuggled Cutty Sark into American speakeasies. McCoy possessed an infamous reputation as a distributor of the highest quality products, always genuine and never adulterated, giving rise to Cutty Sark's affectionate nickname, "The Real McCoy." The black opaque bottle design and cork seal are a respectful hat tip to the type of whisky bottles prevalent during the Prohibition era.
"This blend is created with exact precision as Captain McCoy himself would approve to celebrate the 80th anniversary of such a significant era," said Kirsteen Campbell, Cutty Sark Master Blender. "We look forward to sharing this whisky with those who possess the same free spirit as McCoy's original fans did in the 1920s."
Cutty Sark Prohibition Edition is handcrafted in Scotland in small batches from top quality grain and single malt whiskies, matured in American Oak casks and bottled at 50% ABV (100 proof).
Tasting Notes:
The full flavor of Cutty Sark Prohibition Edition is composed of black pepper and toffee notes with a subtle hint of vanilla and citrus fruits and a smooth finish due to its cold filtration process.
Appearance: Warm golden color
Nose: Soft, ripe citrus fruits, honey and vanilla
Palate: Creamy richness, hints of toffee with peppery notes
Finish: Smooth with subtle hints of spice
What Elizabeth Says:
Nose: Licorice wrapped buttery wood.
Palate: Buttery, vanilla.
Finish: Overwhelmingly tart.
Comments: I'll skip the chance of being caught drinking Prohibition.
Rating: Probably Pass
What Richard Says:
Nose: Roasted nuts drizzled with a sherry reduction, woody, and creamy.
Palate: A fruit tart that I just can't place. Creamy rich mouth feel. Vanilla creme brulee with a nutty back.
Finish: The proof is great on the palate but a little rougher on the finish. Dry and medium length. Nothing offensive, just a little hot.
Comments: Very nice. I haven't always been the biggest fan of other Cutty Sarks I've tried but I' really digging this bottle. It's a taste dram though. The nose and finish don't add much to the party but it is surely tasty.
Rating: Stands Out
We would like to thank Vicki Loo with Three Sixty Communications for sending us a bottle to review.