The Balvenie Tun 1401 Batch 9 Single Malt Scotch Whisky
49.3% ABV
$250
Website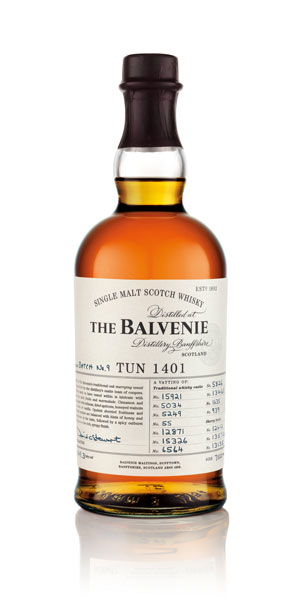 What the Distillery Says:
The Balvenie, the most handcrafted single malt Scotch whisky, is proud to introduce its latest expression: Tun 1401, Batch 9. This release has been exclusively created for the U.S. market, and follows the hugely successful 'Batch 3' and 'Batch 6', which were the only other Tun 1401 expressions released in the United States in 2011 and 2012 respectively.
Available in limited supply beginning this October, this rare batch includes exceptional and precious liquid from a number of casks specially selected by the industry's longest-serving Malt Master, David Stewart. David's first batch of Tun 1401 was released in 2010, for sale only at The Balvenie's Speyside Distillery.
Inspired by and produced in one of the oldest warehouses at The Balvenie Distillery, The Balvenie Tun 1401, Batch 9 is a skillful marriage of some of the rarest treasures from the distillery's Warehouse 24. This latest batch of Tun 1401 represents an unrepeatable selection of spirits sourced from eleven traditional whisky casks and three sherry butts, whose ages span a number of decades, and which have all been hand-selected by Stewart. The whisky rested for several months in Tun 1401 – one of the distillery's unique marrying vessels – to create a single malt that is greater than its already precious parts.
"We've identified what we believe to be an unprecedented range of liquids to comprise this Tun 1401 batch from the vast library of very rare whisky currently maturing at The Balvenie Distillery," said David Stewart, Malt Master for The Balvenie. "The end result is a complex and completely unique marriage characterized by dark fruits and marmalade on the nose. Its richness and smoothness is underpinned with dark chocolate sweetness, delicate honey notes and a distinctly long, spicy finish."
The exceptional quality of The Balvenie is attributed to the unique craftsmanship retained by The Balvenie Distillery. Nowhere else will you find a distillery that still grows its own barley, malts in its own traditional floor maltings, employs a team of coopers to tend its casks, a coppersmith to maintain its stills and has in its service the most experienced Malt Master in Scotland.
Hand-bottled at The Balvenie Distillery in Speyside, The Balvenie Tun 1401, Batch 9 is a limited release with an RRP of $250. The Balvenie Tun 1401, Batch 9 has an ABV of 49.3%.
The Balvenie Tun 1401, Batch 9 Tasting Notes according to Malt Master David Stewart:
NOSE: "On the Nose, Batch 9 is an intricate blend of elegant oak, dark fruits and marmalade."
TASTE: "This unique whisky tastes of opulent sherried fruitiness and mature oak tannins balanced with hints of honey and dark chocolate."
FINISH: "The finish has a spicy outburst which lingers on the rich, syrupy finish."
What Richard Says:
Nose: Gorgeous fruits on the nose. Dark and rich with layers of sherry, stone fruits, orange marmalade, and pear preserves. Really sexy.
Palate: A more tame version of the nose. Creamy and sweet at first. The sherry is really driving the fruit here. Nice play between a slightly bitter tannic fruity wine and a mellow sweetness.
Finish: Heavier on the pepper and oak but fruity jams from the nose and tongue stick around a bit too.
Comments: Simply lovely. Oh if it wasn't 2 1/2 bills I'd be out buying a bottle right now. I can't say enough nice things about how great this is. On an interesting side note, I'm usually not even in the ball park with the "standard" tasting notes for a given dram but David Stewart's notes are spot on. I don't get much chocolate but everything else he lists is right there front and center. I guess after doing a couple hundred of these I'm bound to get one right eventually. 😉
Rating: Must Buy
I would like to thank Kimberly and Sonia over at the Susan Magrino Agency for sending over a sample to review.