The Balvenie Portwood Single Malt Scotch Whisky Aged 21 Years
43% ABV
$180 – $230
Website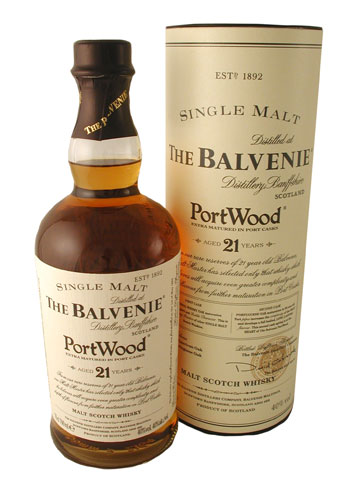 What the Distillery Says:
To create The Balvenie PortWood Aged 21 Years, a marriage of rare Balvenie is transferred to port casks, or pipes, which have held fine port wines. Here it is sampled regularly by The Balvenie Malt Master to ensure that just the right amount of character is imparted by the port casks, enhancing and developing the single malt whilst preserving its original characteristics. In duty free The Balvenie PortWood Aged 21 Years is non chill-filtered and bottled at a higher strength of 47.6% abv.
NOSE
A perfume of fruity and ripe raisin notes, backed by a nutty dryness
TASTE
Refined with remarkable character, it is creamy and silky with fruit, honey and spice notes.
FINISH
Long, gentle, nutty.
What Richard Says:
Nose: Granny's muscadine jelly, honey roasted peanuts, and stewed cherries.
Palate: Creamy but not overly viscous. Fruitcake, allspice, and almond shortbread cookies.
Finish: Warm smokey wood finish that lingers a bit but doesn't overstay its welcome.
Comments: This is one of my all time favorite whiskeys. Period. Those favorites I always try to keep on hand. Granted, as scotch prices continue to rise that gets harder but I do my best. This is an absolutely terrific dram. I've loved it for years and it never disappoints. At nearly two bills it's hard to tell you that you must buy it but if it is within your means then I can't recommend it enough.
Rating:Must Buy
I would like to thank Kimberly and Sonia over at the Susan Magrino Agency for sending over a sample to review.