Glen Grant Five Decades Single Malt Scotch Whiskey
46% ABV
$250
Website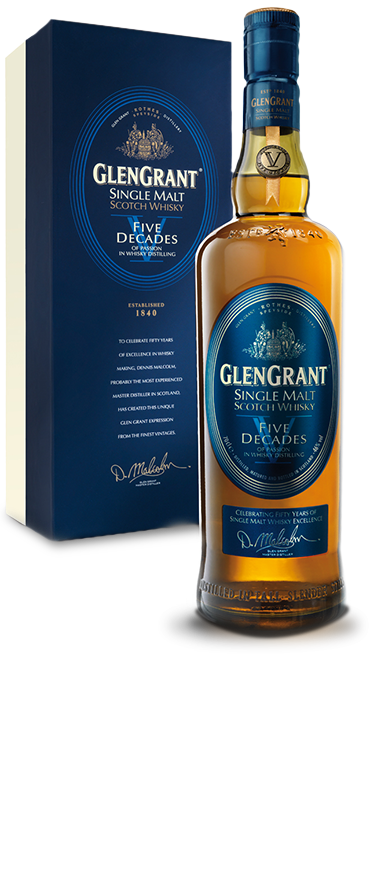 What the Distillery Says:
Five Decades of Excellence
Glen Grant Five Decades is a single malt specially crafted by Dennis Malcolm to celebrate and pay homage to his five decades of experience with Glen Grant. Dennis has hand-selected his favorite casks, which he personally laid down over the last Five Decades (1960s, 1970s, 1980s, 1990s and 2000s). By marrying together these slowly aged casks, each of which has reached its peak of maturity, he has created a rich yet mellow Single Malt with unusual depth and complexity. This whisky is carefully hand-selected to deliver the distinctive smooth, fruity and rich taste experience for which Glen Grant is renowned.
Scotch Whisky as it Should Be
As the scotch category has burgeoned, rival spirits have attempted to differentiate themselves through excessively peaty flavors and exagerated "dark" editions – all gimmicks meant to catch eyes, not taste buds. Glen Grant's Dennis Malcolm, probably the most experienced master distiller in Scotland, cut his teeth as an apprentice cooper in the distillery in which he is now leading the effort to re-introduce Scotch in its purest form: a beautifully light and excessibly drinkable whisky. As the only Speyside Distillery to bottle every whisky on site, Glen Grant is a fitting face to the scotch category, producing scotch whisky as it should be.
Glen Grant is as famous for innovation as it is for its scotch. The founder, James Grant, was the first to install electric lighting in a distillery, and established the distilleries signature pot stills – some of the tallest in Scotland. These taller stills help achieve the delicacy signature to Glen Grant's scotches; during distillation, vapors from the fermented solution rise, and taller stills allow the vapor to escape, resulting in a unique light color and easy taste. It is safe to say that the scotch category continues to benefit from this historic distilleries' progressive, yet respectfully traditional outlook on whisky distillation.
Tasting Notes
Appearance: Light golden barley
Bouquet: A rich and smooth marriage of vanilla, honey and oroloso sherry
Palate: Mouth-feel of orange blossom and honey, intensely creamy, with sweet toffee and mellow raisin fruit
Finish: Smooth and fruity lingering aftertaste
What Richard Says:
Nose:Sherry jumps out first but not in an aggressive way. It just make's itself known. There's a buttery back note hiding behind the sherry.
Palate: Nice initial sweetness reminding me of toffee ice cream and poached pears and it transitions into a grain/cereal type flavor.
Finish: Subtle but you know it's there and it has a decent length. Like the quiet gentleman in the corner of the room listening in on the conversation. A creamy oak note is the main bit but it's not in your face like a whiskey that's spent too much time in the cask.
Comments: Very nice dram. A true standout. It's not going to change the face of scotch but that's not really Glen Grant's thing. They just make damn fine whiskey that you're never opposed to drinking.
Rating: Stands Out
I'd like to thank Nick and the folks at exposureusa for providing me with a sample to review.