Ron del Barrilito "Three Star" Puerto Rican Rum
43% ABV
$25-$35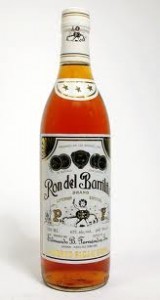 What the Distillery Says:
Established in 1880 by Eng. Pedro F. Fernandez in the "Hacienda Santa Ana" at Bayamon, Puerto Rico. For over 100 years, the Fernandez family has manufactured "Ron de Barrilito" at the place of origin, using the same name, formula and aging process. This special rum is a blend of rums aged, each undisturbed, from 6 to 10 years in charred oak barrels. Enjoy its unique, smooth mellow flavor by sipping, in a snifter, or enjoy it straight, with a splash of water, over ice, before or after dinner.
What Richard Says:
Nose: Rich molasses, brown sugar cookies, slightly smokey and organic.
Palate: Chewy with a lovely mouth feel. Creamy, mellow sweetness, in no way cloying. Honey, bananas and nice citrus notes.
Finish: Warm, slightly bitter but not overly so. It's a lovely counter balance to the sweetness of the palate.
Comments: Lovely Puerto Rican rum. Pass by the more popular Don Q and Bacardi offers and try a nice taste of Bayamon. Despite the PR on the bottle this is actually distilled for Ron del Barrilito by Bacardi but the flavor stands out well against Bacardi's rums. A lovely, versatile rum that you won't regret picking up.
Rating: Stands Out