Chivas Brothers Royal Salute 21 Years Old Blended Scotch Whisky
40% ABV/80 Proof
$170 to $220
Website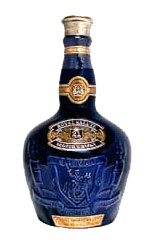 What the Distillery Says:
In 1953, Chivas Brothers paid tribute to Her Majesty Queen Elizabeth II by creating a limited edition of a very special blended whisky. Only 2,500 cases were produced for worldwide distribution. The first flagons, adorned with the royal crest, were sealed on the day of her coronation. The name chosen was considered a fitting tribute to the new monarch. It was called Royal Salute, after the 21-gun salute – the ultimate mark of respect, reserved for tributes to dignitaries and nations alike. Appropriately, each of the whiskies in the blend was at least 21 years old and thus, Royal Salute 21 Year Old was born.
Appearance: Deep, golden amber colour
Nose: Rich, fruity aromas and the sweet fragrance of autumn flowers
Taste: Full, deep fruity flavours wit a subtle smokiness
Finish: Rich, long and lingering
What Richard Says:
Nose: Sherry sweetness, malted barley, heather, vanilla, and dark chocolate.
Palate: There's the slightest smokiness that is really very pleasant. It's a silky smooth dram with a little nuttiness and a surprisingly woody note. It's not oak per se but woody just the same.
Finish: Oak at first but it smooths out into a nutty smokiness. A nice long finish.
Comments: Yummy. I'm not in the habit of dropping $200 on a bottle of scotch. Even less so for a blend. Fortunately, I picked this up for about half the price duty free in Puerto Rico and I'm glad I did. This is an immensely drinkable dram. Are there things I'd rather spend $200 on? Yes but it's very tasty just the same.
Rating: Stands Out