Wild Turkey Rare Breed Kentucky Straight Bourbon Whiskey
54.1% ABV
$40
Website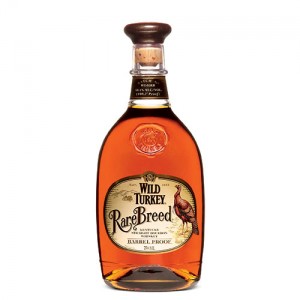 What the Distillery Says:
Rare Breed is a "barrel-proof bourbon" (108.2 proof, 54.1% alcohol), meaning it has no added water to lower the proof or dilute the flavor after it's been distilled. This bourbon is a unique marriage of Wild Turkey 6-, 8-, and 12-year-old stocks, giving it a remarkably smooth flavor considering its high alcohol content. It has hints of light oranges, mint, and tones of sweet tobacco. Jimmy Russell keeps his Rare Breed in the freezer so he doesn't have to add ice, which would dilute the flavor.
What Richard Says:
Nose: Whoa, that starts creeping toward you as soon as it hits the glass. From afar it smells just like walking into the distillery: mash, yeast, and aging whiskey. Pull it a little closer and out rolls fresh yeast bread dough, cinnamon, orange blossoms, black pepper and mint (with water).
Palate: More pepper, roasted nuts, tobacco, and creme brulee.
Finish: Dark chocolate, cocoa powder, heavy cigar tobacco, transitioning pepper notes from black to white and a big smack of wood.
Comments: This is the ultimate "it'll put hair on your chest" bourbon. Rare Breed doesn't mince words. It gets in there and kicks ass. The Harry Callahan of bourbons. It's not the newest and trendiest thing off the new release calendar but is damn good and always worth a go.
Rating: Must Try