Jameson Rarest Vintage Reserve Irish Whiskey
46% ABV
$250 to $300
Website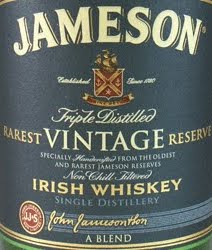 What the Distillery Says:
A triumph of the collaboration between the Jameson Masters, our hand crafted Jameson Rarest Vintage Reserve is a true masterpiece. The advanced aged whiskeys in this magnificent reserve are brought together with pot still whiskey that has been matured in hand-picked second fill bourbon casks to create a mellow sweetness in specially commissioned port pipes. The result? Gloriously rich fruit character with an unmistakable barley finish. But don't take our word for it: this rare blend was voted the world's best Irish Blended Whiskey at the 2009 World Whiskies Awards.
Tasting Characteristics
Nose: A real full-bodied aroma. Initially sweet with ripe fruit notes of melon, bananas and dark fleshy plums. The unmistakable pot still spicy character combines to give hints of treacle, cinnamon and liquorice.
Taste: A mouthful of flavours. Mellow sweetness and toasted wood are complemented by fruit richness characteristic of the port casks. A touch of creamy dairy fudge and dark chocolate add to the complexity.
Finish: A tantalizingly long finish which covers the spectrum from the sweetness of fruit, through the spices to the unmistakable note of barley, where it all began.
What Richard Says:
Nose:Prunes, fried bananas, pepper, and cinnamon.
Taste:Rich, oily, woody sweetness, dark chocolate, and vanilla.
Finish: The port really shows on the finish. Long, subtle, and cereal notes.
Comments: I sat down with this and the 2009 Midleton's (yes I'm that kind of whiskey geek) and comparatively this is much more rich and luscious. Easily the best Irish blend I've every tasted. This is well balanced with layers of flavor opening one after the other. If this is within your budget for any occasion I would suggest it without the slightest reservation. It's pricing but you can taste damn near every dollar.
Rating: Must Buy