Parker's Heritage Collection Sixth Edition: Master Distiller's Blend of Mashbills
Kentucky Straight Bourbon Whiskey
65.8% ABV
$85-$90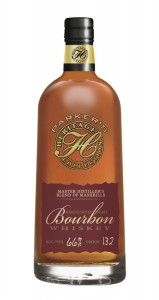 What the Distillery Says:
Heaven Hill Distilleries, Inc., the country's largest independent family-owned and operated spirits producer and marketer, announces the September release of the sixth edition of Parker's Heritage Collection, a limited annual series of rare, aged American Whiskeys that pays tribute to 6th Generation Master Distiller Parker Beam. The 2012 release will feature select barrels of 11 year old Heaven Hill rye-based Bourbons, used for such renown brands as Elijah Craig and Evan Williams, mingled with select barrels of the wheated mashbill Heaven Hill uses for the Old Fitzgerald line, also aged for 11 years. Bottled at cask strength, this bottling, much like the highly acclaimed "Golden Anniversary" bottling of 2009, showcases not only the individual whiskeys, but also the skill of the Master Distiller in selecting and marrying them together in the right proportions.
The rye-based Bourbon was pulled from the 4th floor of Rickhouse "R" in Bardstown, while the wheated Bourbon aged on the topmost 7th floor of nearby Rickhouse "T". Like previous Parker's Heritage Collection releases, the "Master Distiller's Blend of Mashbills" will not be chill-filtered as is the custom for many Bourbon brands, thereby helping to maintain the natural esters and compounds which provide a rich texture and mouthfeel. The release will comprise of 3 "dumps", with each having a slightly different barrel proof. The first dump will carry a proof of 131.6, or 65.8% alcohol by volume.
This year's release of Parker's Heritage Collection promises to be a worthy successor to the previous five releases, which, having won multiple awards from Whisky Advocate Magazine (formerly Malt Advocate Magazine), Whisky Magazine and the San Francisco World Spirits Competition, stand as some of the most critically lauded American Whiskeys in recent memory.Past bottlings have won awards ranging from "Best North American Whiskey" to "American Whiskey of the Year" to "Best of Show, Brown Spirits."
"It is always an enjoyable challenge to plan out the annual releases of the Parker's Heritage Collection, and this year's was no different" noted Heaven Hill's Parker Beam. "We've always traditionally used a rye-based Bourbon mashbill, but we've been making wheated Bourbon for over a decade now, and the way they blend with each other has always intrigued me. We're very pleased with the taste and finish of this year's edition, and releasing it at barrel proof allows consumers to have some say in how it presents itself. "
The 2012 Parker's Heritage Collection Master Distiller's Blend of Mashbills is a very limited release, as all of the previous five have been. Only about 7,500 bottles are available for national distribution and limited international sales, and as always, once these are shipped from Bardstown, no more will be made available.

What Richard Says:
Nose: Shortbread cookies, honey glazed ham, honeysuckle, and jasmine.
Palate: Caramel crisps, cinnamon, and a sweetness that starts off very subtly and stays mild. Not overpowering at all.
Finish: White pepper, mint, and very light hints of oak. The finish turns dry, a little chalky, and lingers.
Comments: When is one of the majors going to make a production four grain? Both Woodford Reserve and Heaven Hill show that four grains can really be something special. Woodford had a great recipe and Parker Beam has great skill as a blender. This is a great bourbon you should experience if you get the chance.
Rating: Must Try