The Famouse Grouse Malt Whisky Aged 12 Years
40% ABV/80 Proof
$35 to $40
Website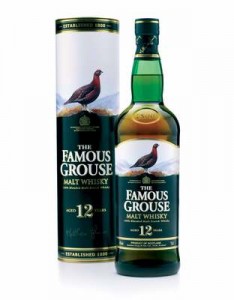 What the Distillery Says:
Try something a little different, with this rare balance of soft oak and citrus. The Famous Grouse 12 year old malt whisky is created from the finest single malt scotch whiskies including the world renowned The Macallan and Highland Park. These whiskies are left undisturbed to mature for a minimum of 12 years. The result is an invigorating spirit with a long, rewarding finish.
What Richard Says:
Nose: Floral integrates with treacle and brined meat. Malt-o-meal, there is a little orange citrus not too. Interesting characteristics, I just don't care for how they mesh together.
Palate: Rich, nutty, and surprisingly sweet. Not bad. Much improved over the nose.
Finish: More of that citrus and oak. It's clean and clears out quickly. Very short finish.
Comments: I wanted to like this. I really did. I love Highland Park and Macallan and they are both in here. However, this one just doesn't do it for me. Some folks love it. It's a "Wine Enthusiast 95/100 Best Buy" if that means anything to you. I find it very unappealing. There are many better dreams for the same price. Admittedly, I bought this because it was on sale for $20 but even at that price I wouldn't buy it again.
Rating: Average