Cragganmore Single Highland Malt Aged 12 Years
40% ABV/80 Proof
$50
Website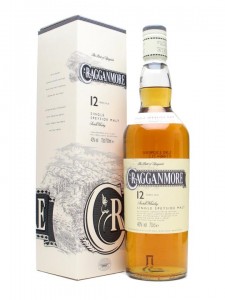 What the Distillery Says:
Speyside today is widely revered for its sublime malt whiskies and for its fine salmon fishing. It is here, in this fertile triangle of land between mountain and sea, long been known as the Garden of Scotland, that Cragganmore single malt whisky is distilled.
Barley is naturally a major crop, and the presence of Scotland's fastest flowing river – together with peat from the uplands to the south – was the reason original Cragganmore owner 'Big' John Smith felt that it would be the perfect place for the perfect distillery.
And who could argue with his genius? Successive managers of Cragganmore have strived to continue his vision to deliver the sweetest, most complex of malt whiskies. Fruity, honeyed notes are often found and many a taster has talked of fruitcake and toffee flavours.
NOSE – A combination of sweet floral fragrances, riverside herbs and flowers with some honey and vanilla.
BODY – Firm, rounded, light to medium.
PALATE – A strong malty taste with hints of sweet wood smoke and sandalwood
FINISH – A long, malt-driven finish with light smoke and hints of sweetness.
What Richard Says:
Nose: Treacle tarts jump out initially but quickly mellow to a more subtle earthy sweetness. Meaty and herbal with a honey sweetness.
Palate: It starts off very soft and mellow. There is a light floral sweetness to it as it picks up steam toward the finish.
Finish: Dry and spicy. It is a little brawny compared to what you might expect from the palate.
Comments: Why doesn't Cragganmore get more love? It's an enormously pleasing dram and stands above the likes of it's more popular 12 year old brethren like Glenlivet, Glenfiddich, and Macallan. I actually know the answer to my own questions. Diageo prices it out of popularity. At $50 a bottle it's well above the three Glens and near $10 more than the perennially overpriced Dalmore and Macallan. The value proposition makes it hard to tell you to seek it out over other drams but from taste alone I find it to be a benchmark 12 year old.
Rating: Stands Out