Evan Williams Single Barrel Kentucky Straight Bourbon Whiskey
Put in oak 2002
Barrelled on 4-2-02
Barrel No. 541
Bottled on 6-11-12
43.3% ABV
$20 to $25
Website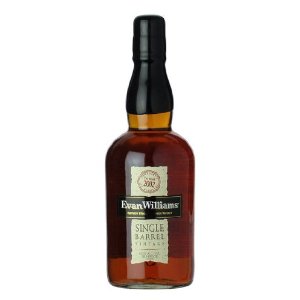 What the Distillery Says:
This Bourbon was personally selected by our Master Distiller, only after meeting his exacting standards for this vintage. Taken from a single barrel, it is the art of Bourbon making at its finest. Bottled unblended with other barrels to preserve its individuality. Hand-numbered as a sign of its limited availability.
Color Delicate amber gold
Nose Dark caramel, sweet oak, and charred wood
Taste Lush and spicy; oak with honey, apple, and orange notes
Finish Long, graceful and relaxed
What Richard Says:
Nose: A grab bag of vanilla and dulce de leche cream candies. Apple wood and a little licorice.
Palate: Mild and terribly drinkable. Subtle sweetness and spiciness dance behind the wood.
Finish: Medium length and a bit dry. Nothing harsh about it.
Comments: This year's vintage is a lovely and highly drinkable bourbon. It's not going to knock anyone's socks off off but no one is going to complain about it if it's offered. It's still easily found sub $25 which makes it a great value pick too!
Rating: Stands Out, Great Value