The Glenlivet Archive 21 Years of Age Single Malt Scotch Whisky
43% ABV
$150
Website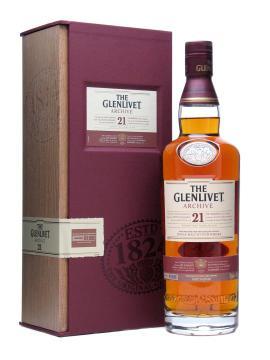 What the Distillery Says:
The Glenlivet 21Year Old Archive is a batch produced whisky using only hand-selected casks. It is a complex whisky with sherried and wood notes integrating seamlessly with the aromatic palette. Let the pleasure linger late into the night.
COLOUR
Amber with sparkling copper shades.
NOSE
An opulent, mature nose with a sherry influence. An intricate array of wood and fruit: Christmas cake, sultanas, maraschino cherry. Water enlightens the fruity bouquet and brings out vanilla and lighter notes of ripe peaches. Pear and marzipan pie. Luscious barley sugar aromas.
PALATE
This full-bodied whisky is unctuous and mouth coating, almost syrupy. Oak holds the reins back, releasing a drying spiciness of cinnamon, ginger, walnut and dark chocolate.
FINISH
The finish is everlasting and warming with lingering presence of toasted hazelnuts and a full layer of liquorice.
What Richard Says:
Nose: Sherry, treacle, butterscotch, and malt are the first impressions.
Palate: It creeps in so softly that it almost seems light and then the richness pervades the mouth. Creamy, nutty, and oaky with just the slightest hint of buttery toffee.
Finish: Toasted nuts, white pepper, and oak.
Comments: Really a lovely dram. I was once at a Glenlivet tasting at Morton's in Atlanta. Towards the end of the night the "leftover" whisky was flowing and Sam and I were chatting over a dram with the brand ambassador. As we look across the room we see a fellow trying to be sneaky and snatch some more 21 while the bartender wasn't looking. To our horror he filled a Collins glass to the brim with ice and then topped the glass off with the 21. I'm usually not one to tell others how to drink their whisky but this seemed almost criminal. Enjoy the Archive but go light on the ice. 😉
Rating: Stands Out