Springbank Campbeltown Single Malt Scotch Whisky Aged 10 Years
50% ABV/100 Proof
$65+
Website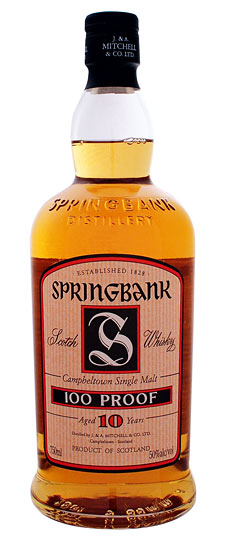 What the Distillery Says:
The original Springbank whisky has been distilled legally on the site of the present distillery since 1828, and probably illicitly since well before then! Known and loved amongst whisky enthusiasts the world over, Springbank is produced using lightly-peated barley and a unique two-and-a-half-times distillation. This gives the whisky a character all of its own, making it stand out as a must-have dram on anyone's shelf.
Produced using the most traditional of production techniques, from floor malting all the way through to the bottling stage, Springbank can best be described as a "hand-made" single malt. The classic Springbank complex, rich character can be found throughout the various bottlings available: the 100 proof 10 year old is considered by many to be Springbank in it's purest form with its salty, briny flavour.
What Richard Says:
Nose: Savory on the nose and the alcohol needs a little taming. From there the brine shines through.
Palate: Heavy on the brine and smoke.
Finish: A powerful smack you in the face finish that comes across like a more intense version of the palate.
Comments: Is this the regular 10 year old with more alcohol? Not really. This version is a little less nuanced to me. I much prefer the standard 10 year old.
Rating: Stands Out.