Wow, it's been a crazy summer. It's already October and I'm just now getting back to the content from my trip to Ireland in May. Well, continuing from the post on The Old Jameson Distillery we're off to Kilbeggan!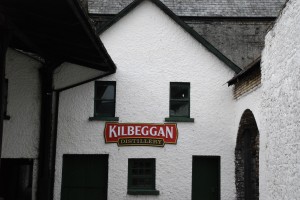 After our time in Dublin and the surrounding areas, my wife and I headed west on the N6 to Kilbeggan. It's actually pretty easy to get there. Off the N6 you turn on to R389 and take that north to R446 headed west and the distillery is just down the road on the right. Heading into the quiet town of Kilbeggan we meandered down the main road until we came to The Old Kilbeggan Distillery/Kilbeggan Distillery Experience (formerly know and the Old Locke's Distillery). If you are smart you aren't racing down any of the Irish country roads but heading through Kilbeggan you can drive right past the distillery if you aren't paying attention. Hang a right just past the distillery and the parking lot will be on your right behind the distillery.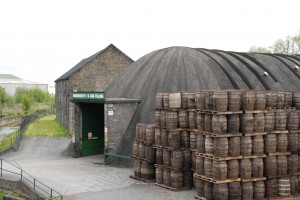 As soon as you get out of the car you'll see barrels off in the distance and smell that tell tale whiskey distillery aroma of distilled water of life, grain, and fermenting distiller's bear/mash. Let's take a moment to level set expectations. This is not where Cooley makes all their Kilbeggan. That facility isn't open to the public. They make a very small amount of whiskey here. More of this site is still dedicated to the shuttered remnants of the Old Locke Distillery than the new active distillery operation. It's not a deal breaker for a visit. I just want you to realize when you are outside the distillery that only a relatively small part of what you are looking at is actually devoted to active production. Also, most of the "tour" is the Old Locke's part and you only get to see a little of what is used to make the new stuff.
I'm not sure why the Irish are so shy about their production facilities but at the time of this post Bushmills is the only distillery doing a tour anywhere close to what bourbon and scotch fans have come to know.
So with that disclaimer out of the way let's head around front from the parking lot and go inside. As you enter the front there is a lovely little bar to the right and a desk to the left where you pay your seven euros per person for the tour. At the time of my visit in May 2012 they were not taking plastic. Cash only so come prepared. Now that I think about it that's a good general tip for traveling in Ireland, especially for plastic dependent Americans.
After you pay your euros you'll get a copy of the tour guide. Yep. Not tour guides. It's a paper packet with notes for the various numbered tour stations throughout the Old Locke's Distillery. For those of you who have toured other active distilleries this is a little anti-climatic. It's really more of a museum at this point than a distillery tour. (According to the website Kilbeggan now offers guided, self-guided, and group tours seven days a week. I guess I went for a visit a little too soon.)
Once you make your way through the museum portion you can head across the breezeway and up the stairs to a small area housing actual Cooley whiskey.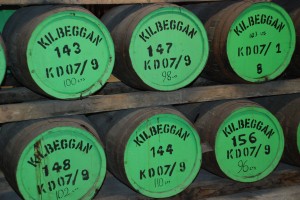 You can head to the back and overlook the active still. (According to Cooley this is the oldest pot still in production.) That's as close as you're going to get to active production here. Head back downstairs and follow the signs to the gift shop. Here you can get your shot glasses, minis, and other Cooley/Kilbeggan swag.
After you stock up on souviners head back over to that bar you passed on the way in. Here you can get your dram of Kilbeggan included in the tour price.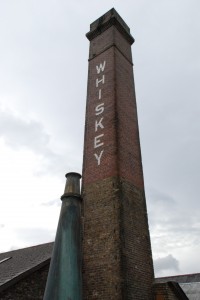 This is really a neat little bar. They also have Guinness on tap and you're just as likely to be sitting next to a local having a pint as you are to be sitting next to a tourist. You can also buy minis and bottles of many different Cooley offerings. Special among these is the Distillery Reserve version of Kilbeggan. This is actually what's being made here at the distillery. It's young and it's pricey. I bought a bottle. I kind of wish I hadn't. If you really want one then I recommend waiting and picking one up duty free at the airport in Dublin. It's A LOT cheaper.
All in all it's an interesting little jaunt going to Kilbeggan. I wouldn't plan a whiskey pilgrimage around it but if it's on your way why not stop by for a visit. My hope is that they continue to expand this facility and open the Cooley Distillery in County Louth to tours. Until then this is as close as you're going to get to the birthplace of Kilbeggan or Cooley whiskey.
Drink wisely my friends,
Richard