Parker's Heritage Collection Aged 27 Years
Kentucky Straight Bourbon Whiskey
48% ABV
$200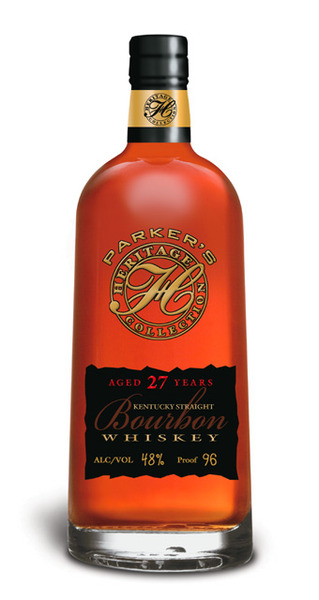 What the Distillery Says:
Parker's Heritage Collection is a tribute to sixth generation master Distiller, Parker Beam, for his 45+ years of service to the distilling industry. Hand selected by Parker himself, the barrels for this second edition have been aging since 1981 on the lower floors of one of Parker's favorite rickhouses. There, the more constant temperature tamed the aging process, yielding a rich, 27-year-old Bourbon that defies its age.
What Richard Says:
Nose: Ripe plums, toasted oak, caramel, toffee, vanilla, and Alton Brown's oatmeal raisin cookies (the ones with no flour and golden raisins).
Palate: More vanilla, oak, with old leather and cinnamon. There is also this weird initial note that reminds me of SweetTarts (yeah, I know). An exceptionally balanced drink.
Finish: Rich, leathery, fiery, meaty, tobacco tinged, oak laden, and supremely masculine.
Comments: I pulled this one out of the back of the whiskey cabinet to help close out this year's National Bourbon Heritage Month. It's extremely rare to see a 27 year old bourbon. The angels are wicked greedy with their share after 27 years. It's even rarer still for said bourbon to be any good. Usually you would get a wet oak stave in a bottle. This is something different and truly spectacular. My hat is off to Mr. Beam for his exceptional talents.
Rating: Must Buy