Angel's Envy Kentucky Straight Bourbon Whiskey Finished in Port Wine Barrels
43.3% ABV
$45
Website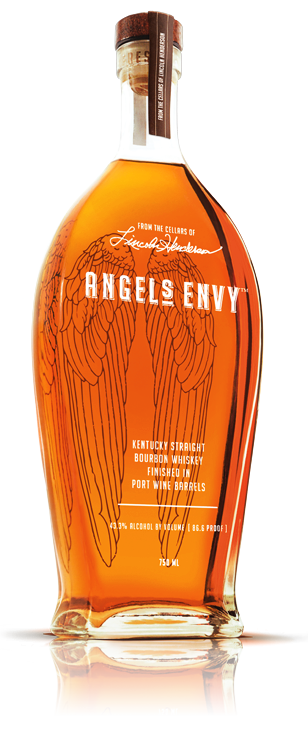 What the Distillery Says:
One man's masterpiece, Angel's Envy is an artisan bourbon inspired by Lincoln Henderson's lifetime spent perfecting his craft and creating fine spirits. There may just be a spark of divine vision mixed in as well. Recognized by Malt Advocate, The Bourbon Review and Maxim as one of the top spirits released in 2010, Angel's Envy is positioned as the world's premier super-premium bourbon brand.
Beyond all the press, Angel's Envy is Lincoln Henderson's passion — a career culminating in two fingers of the finest bourbon you've ever tasted. To call Angel's Envy "small batch" is an understatement.
Our bourbon starts with the native Kentucky climate and soil in which our corn and rye are grown, and a pristine limestone watershed rich in calcium and magnesium. These local ingredients are distilled and aged for four to six years in American white oak barrels. Because we want to create a genuinely unique spirit, we age it for three to six additional months in hand-selected port casks to create an exceptionally smooth and nuanced bourbon.
Some people might say Lincoln Henderson has a problem when they hear that he personally samples every batch of Angel's Envy. We agree — he's a raging perfectionist. Through every step of the process, he personally judges each batch's readiness. We hope you'll be able to overlook his condition.
Mr. Henderson describes his masterwork as "a warm spirit, lacking any hint of edginess, with ephemeral hints of port wine and a rich amber hue." He explains, "My goal with Angel's Envy is to produce a bourbon of exceptional character. Even with economic fluctuations, consumers want the opportunity to treat themselves to special indulgences, and I have created an affordable luxury that can be savored." Lincoln Henderson sought to create the best-tasting bourbon on the planet. In our humble opinion, he succeeded.
Shake the bottle. If you're lucky enough, you might see something special. We like to call it "essence." We don't filter our bourbon. If you're looking for a filtered bourbon, the shelves are full of them. Filtration can remove up to 20% of a bourbon's flavor and color. We prefer to let our bourbon live in its natural state. If that means an occasional particle, we think you'll understand.
But why do we call it Angel's Envy? As bourbon ages in the barrels, it's drawn into the charred white oak during summer months and it recedes back into the virgin barrels during winter months. For each year of maturation, 5% of the barrel's bourbon is lost to evaporation. For generations, this precious lost bourbon has been called the Angel's Share. After tasting his creation, Lincoln Henderson reckoned that the angels might have wanted a bigger cut. Thus, Angel's Envy was born.
What Richard Says:
Nose: Buttery toffee, caramel, and wildflower honey.
Palate: Delicately sweet. Vanilla and cinnamon stand out with a little more toffee and fruity notes.
Finish: Well balanced. A little wood spice interplays with remnants of the palate to medium length before abruptly turning dry and fading out.
Comments: I'm really liking some of the new finished bourbon's released recently. The Parker's Cognac Finish and Angel's Envy stand out from the crowd. This is a dangerously easy to drink bourbon. Tasty and well balanced.
Rating: Must Try